ANDYCINE A6 Plus 5.5inch Touchscreen 4K HDMI Camera Field Monitor with waveform/vector scope/3D LUT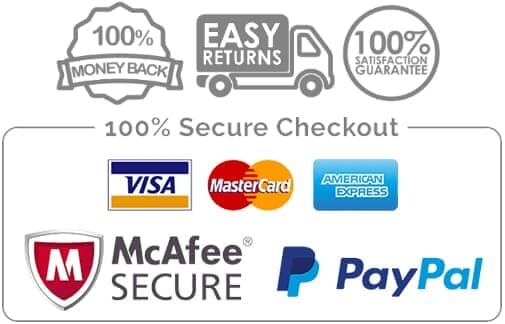 Brand: ANDYCINE Item Number: A6Plus

[Touch Panel】5.5inch IPS Touch Panel Perfect size for gimbal and handheld stablizers. 1920*1080P native resolutions. Touch screen, free your hand with several finger touch easily access to the menu and quick path to useful function such as histogram, peaking, false color etc
【4K HDMI Input and 4K HDMI Loop out】. Support 4K HDMI Signals: 4096X2160P 24Hz 4K UHD 3840X2160P (30/29.97/25/24/23.98Hz) Live views your image or video on the A6 Plus with HDMI Cords. HDMI loop output offer the secondary HDMI Monitor connections
【3D Lut Supported Monitor】. The monitor will load 3D Lut files via the SD card slot. You can easily load, edit, and display your files.
【8V DC Output】Real-time to power your dslr cameras (For Sony, Nikon, Fuji, Canon Cameras). 8V DC power output via a DC Coupler (not include) will continue powering your dslr cameras for long time shooting and time lapse photograph
【Triple Power Source】Accepts the Sony-np-f series battery as well the Canon LP-E6 battery as power source. Beside those, the monitor accept the DC Adapters(5.5MM/2.1MM Pin Dimension) The batteries and DC Adapter were NOT Included
【User Friendly Desing】3 Points of 1/4inch screw holes(Top,bottom,right side) The monitor with swivel arms which give you the ideal viewing angles. There is a cold shoe which can attach microphone,led lights. Good sound customer servier,1 year quality assurance, free return and replacement if there is any quality issues within 1years. Good sound 24x7customer service from andycine. Buy with andycine, buy with confidence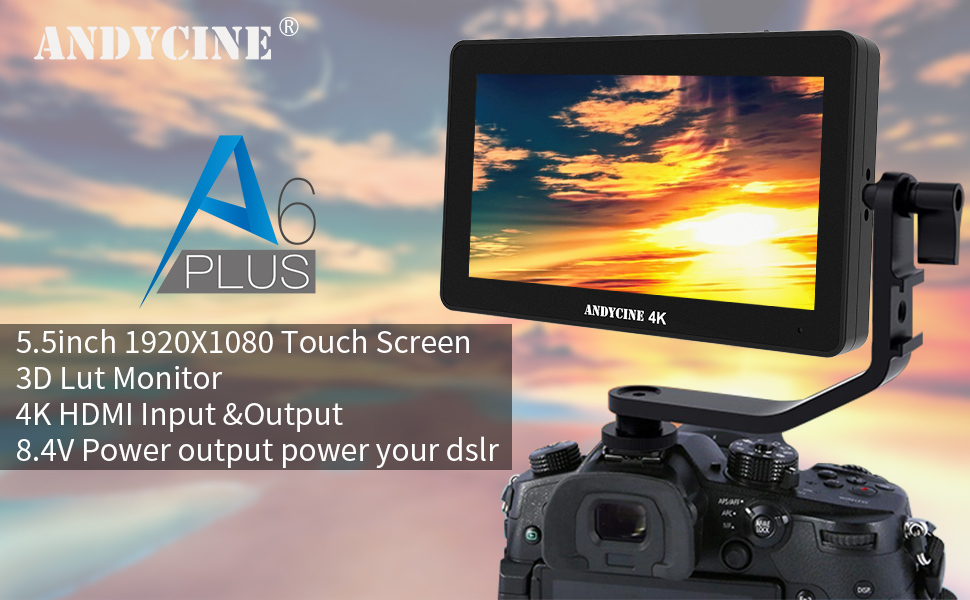 Support Touch Screen and Button Control Menu
●You can also get a quick glance at your menu settings and features with an easy tap on
the screen.
●It also supports physical buttons control. Tap/Rotate the wheel button for quick selection and function settings.
●Tap the power switch to turn off the touch function, designed to prevent misuse.
3D LUT Color Calibration and Real-time Preview
A6 PLUS provides S-log2/3, V-log, Log-C etc, to convert log mode to REC709 for all major
cameras.
The LUT loading function makes the color calibration work of the previous shooting easier and more
intuitive, optimizes the workflow and improves work efficiency. User creative 3D LUT cube or calibration
3D LUT cube can be uploaded to F6 PLUS by SD card.
4K HDMI Input & Loop Output
The A6 PLUS has 4K HDMI in and loop-out, allowing it to not only display live signals, but also send them out
to other monitors simultaneously. It's the ability to display live picture on multiple displays at once while still maintaining
the original video quality. Plus, you can monitor audio using the 3.5mm stereo headphone jack.
Flexible Dual-purpose Battery Plate
Compatibility with Sony F970 and Canon LP-E6 of lithium batteries for one battery plate. Providing
long-time working condition for cameraman in shooting applications.
What is the difference between A6PLUS v1 and V2 ?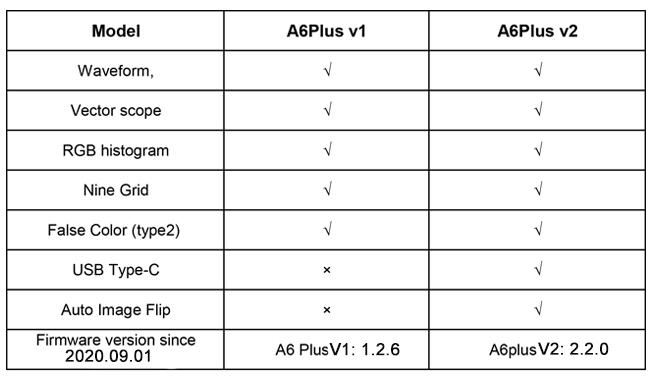 Noted:
1. USB Type-C Power input: You can use USB power adapter or Powerbank to power V2 monitor.
2. Auto Image Flip(Horizontal&Vertical)


Pls check your firmware version in the menu of the monitor before contact us cs@andycine.com to get the lastest firmware.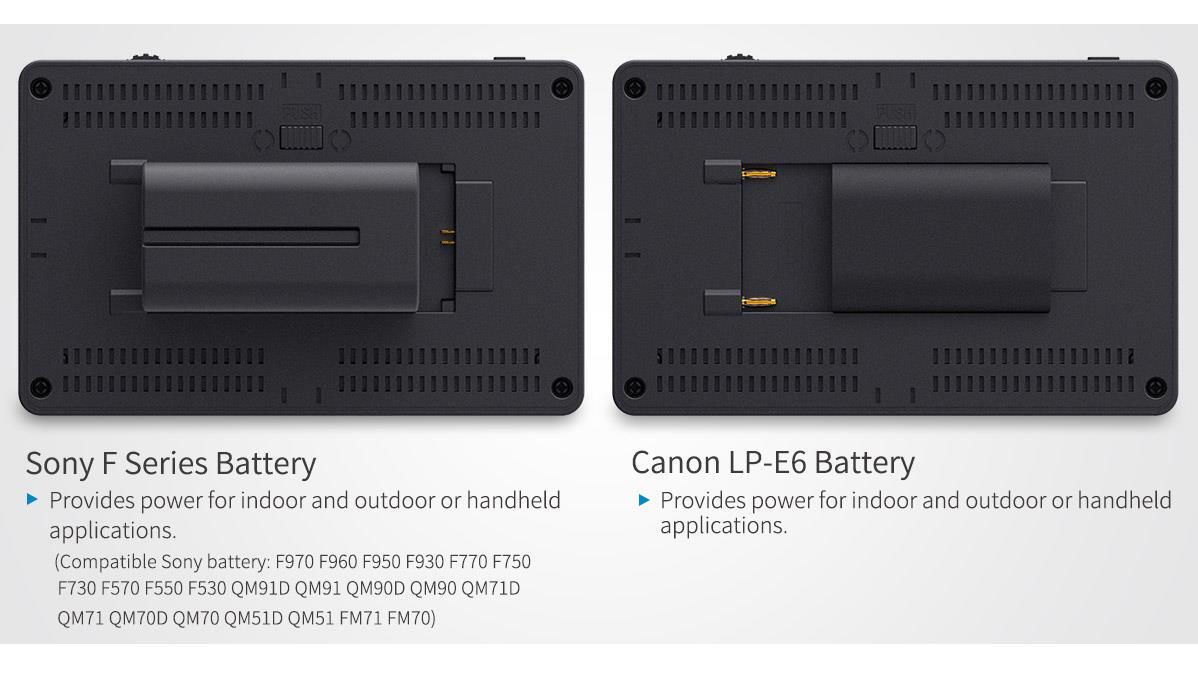 Convenient Mounting - Tilt Arm
Every A6 PLUS monitor will ship with a cold shoe mounted Tilt Arm. Shooters will have a secure
way to position their monitor while maintaining a low profile.
• Allows the A6 PLUS monitor to rotate 360 degrees for viewing convenience
• Secure and lightweight mounting via shoe mount or 1/4"-20 thread
• Includes a shoe mount of its own for accessories like a microphone, LED light, or wireless receiver, etc.
Andycine A6 PLUS features standard 1/4" mount points (top, bottom, right) for attaching it to cameras
and rigs. Not only you can install it on a monitor through tilt arm, but also you can mount it on a handheld
stabilizer or securely attach it to the top of your camera as the ultimate HD viewfinder! If you install it on the
bottom of the device, you can also combine the image flip function to maintain the correct orientation of the
screen!
Portable Sunshade, Easy Install
The A6 PLUS monitor is equipped with a sunshade, which allows the photographer to focus more on the video
and avoid the interference of strong light, providing a better visual experience. The installation process is simple
and fast, which is very suitable for outdoor shooting.
What is New On the ANDYCINE A6 PLUS?
Monitoring Tools with Quick Accessibility
The A6 PLUS keeps the original great: it's small, lightweight and has great image quality.
In addition, it now features the touch screen and has the ability to import 3D LUTs via the
SD card. The A6 PLUS is the perfect monitor for those who need an easy-to-use lightweight
on-camera monitor such as gimbal operators, or shooters that are always on the go.
Its touchscreen conveniently allows you to zoom your image with a pinch gesture and tap to
access the menu settings. There are also a variety of onscreen tools to help you set up your shots,
including histogram, peaking, embedded audio, exposure, false color, zoom, guides, pixel-to-pixel,
anamorphic mode, image freeze and more.
1920x1080 Display with Rec. 709 Color Calibration
The 5.5" IPS screen features a 1920 x 1080 resolution, packing 400 pixels per inch and provides
a wide viewing angle of 160° and for easier off-axis position monitoring. Built-in 3D LUT color
calibration, which complies with the standard of REC-709, can calibrate each monitors so that
it can eliminate the trouble of color cast.
Vectorscope: Vector scope shows how saturated the image is and where the pixels in the image land on the color spectrum. It can also be displayed in various sizes & positions, that allows users to monitor color gamut range in real time.
Waveform / Vector scope /Histogram
Waveform: This essential feature assists with the calibration of professional video cameras. It shows the overall brightness of the image assisting the video professional in correcting exposure. The waveform feature also checks the evenness of the lighting when lighting a chromakey or background.
AndyCine A6 Plus Features
Touch screen menu operation

Support 3D LUT Log to REC.709 and user 3D LUT upload

1920x1080 full HD IPS screen

Support 4K HDMI input and output: UHD 4K 3840 x2160p (30/29.97/25/24/23.98Hz), DCI 4K 4096 x2160p (24Hz)

Histogram is a quantitative tool to inspect the image brightness, to guide the exposure control

Focus Assist (red, green, blue, white, yellow five peaking colors optional)

Audio Meter

Zebra and False Color function, convenient to guide the using light when shooting and the post production

Monochrome (gray, red, green, blue)

Image Zoom-in function

Anamorphic Mode

Image Flip H and Flip V

Image Freeze

Pixel to Pixel

Marker Mat, Center Marker and Safety Marker

Brightness, Contrast, Sharpness, Hue, Saturation and Color Temp Adjustment

Stereo Earphone output

DC 8V power out to power your DSLR camera or mirrorless camera

External sunshade, sunlight readable



In the Box(A6Plus)

1 x A6Plus Camera Monitor




1× HDMI to Micro HDMI Cable

1× Tilt Arm

1× Sunshade

1× Manual

Limited 1-Year Manufacturer Warranty





In the Box(A6Plus Bundle)

1 x A6Plus Camera Monitor




1× HDMI to Micro HDMI Cable

1× Tilt Arm

1× Sunshade

1× Manual

1x F550 battery+USB-C Charging Cable

1x Carrying bag

Limited 1-Year Manufacturer Warranty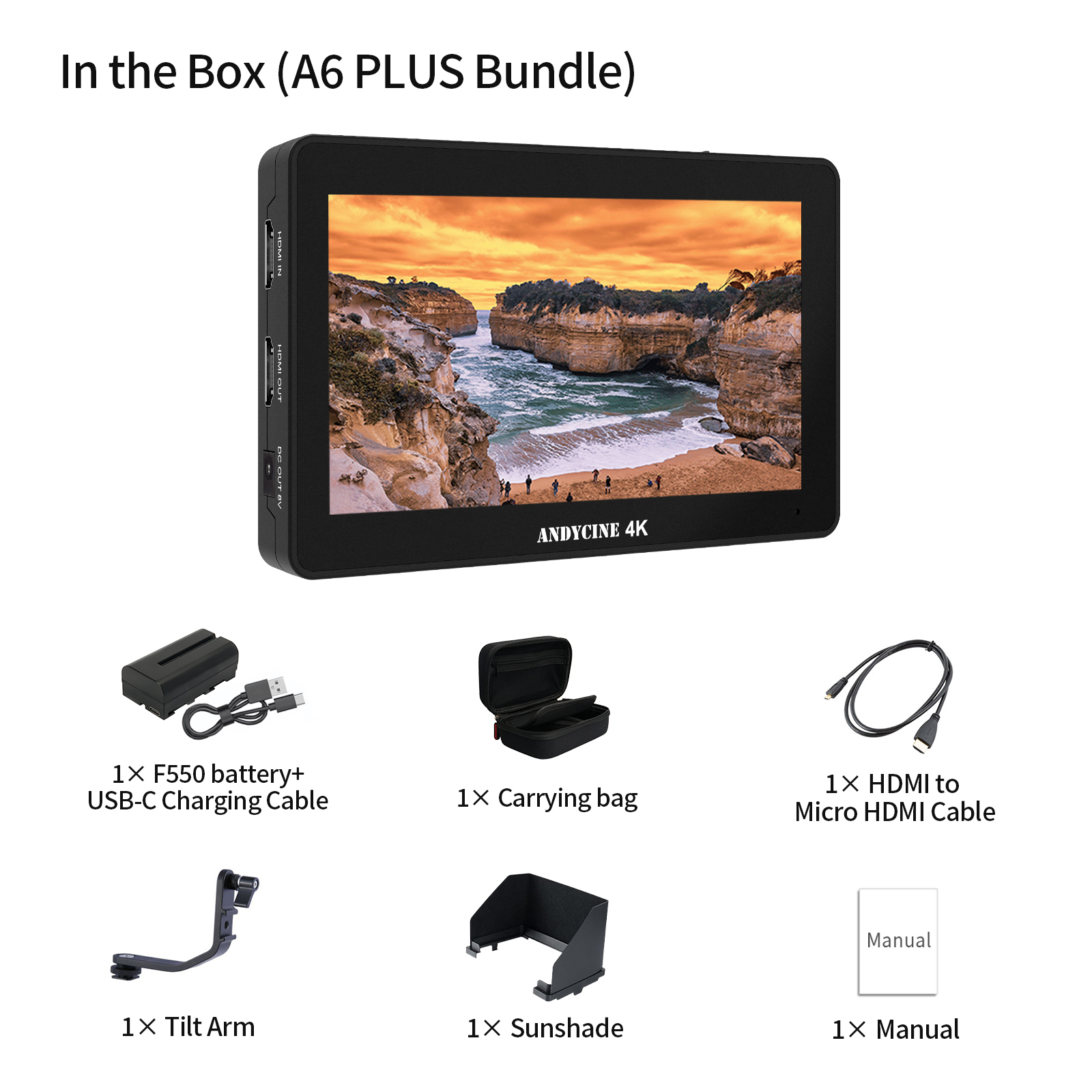 Download user manual:A6 PLUS USER MANUAL
(Please note: Do not change the name of the upgrade program! This is only for A6 PLUS V1 (without Type-C) user update, if your monitor is Type-C version, don't use this to update your monitor)
(Please note: Do not change the name of the upgrade program! This is only for A6 PLUS V2 (with Type-C) user update, if your monitor without type-c version, don't use this to update your monitor)
PLS CONTACT US IF YOU DON'T KNOW YOUR A6plus version:info@andycine.com
1. We accept PayPal only.
2. All major credit cards are accepted through secure payment processor PayPal.

3. Payment must be received within 7 business days of auction closing.

4. We will ship to your address. Please make sure your address is correct before you pay.
1.

Fast Free Shipping ,We have
Stock in US, Europe, China ,shipping time 3-7 days
2. We Ship to worldwide.If you can't place the order in your country, please contact us to help you buy it sucessfully.
3. Items will be shipped within 2 business day on payment received.
1. All our products are new. 1 Years Warranty. Buy with confidence!
2. If you are not satisfied when you receive your item, please return it within 30 days for a replacement or money back. Please contact me before you return it.
3. Shipping & handling charges are non-refundable. Buyer is responsible for all return shipping cost.Prepaid return labels are only provided to customers that have received an incorrect or damaged item.
4. Item must be returned in condition received (Tags & Packaging).
1. All messages will be answered within 1 business day. If you do not receive our reply, please kindly re-sent your message and we will reply to you as soon as possible.
2. We do all that is within our powers to provide excellent customer service to all our buyers. If you think there is a reason to leave negative or neutral feedback, please contact us for assistance and we will do our best to resolve the problem as soon as possible.
DISPLAY SPEC.:

Screen Size: 5.5,Resolution: 1920x1080 pixels ,Pixel Pitch: 0.0639 (H) x 0.0213 (W) mm ,Aspect Ratio: 16:9 ,Brightness: 500cd/m² ,Contrast Ratio: 1000:1,Viewing Angle: 80°/80°(L/R) 80°/80°(U/D)
INPUT/ OUTPUT:

Input: 1 X 4K HDMI ,Output: 1X 4K HDMI, DC Output ,Audio: 3.5mm Stereo Headphone
GENERAL:

Input Voltage: DC7~24V,Consumption: ≤9W,Connector: DC ,Working Temperature: -20°C~55°C,Storage Temperature: -30°C~65°C ,Install Way: ¼-20 thread points (top, bottom, right),Unit Size: 148Lx93Hx20D (mm),Unit Weight: 235g,Compatible Battery: Sony F970, F960, F950,F930, F770, F750, F730, F570, F550, F530, QM91D, QM91, QM90D, QM90, QM71D, QM71, QM70D, QM70, QM51D, QM51, FM71, FM70 series. Canon LP-E6
ByJ. LindbladFriday, 25 September 2020
Monitor is hard plastic, has a solid feel. The two buttons (other is menuwheel also) feel snappy. Touchscreen works well even with the screenprotector still on, pinch to zoom, quick menu from swiping bottom of the screen, double tap to all the settings, everything is quick to access and can be learned in 5 minutes.There was sunshield, carry case, hotshoe arm, hdmi to micro hdmi cable, UK style power adapter but not Sony NP style battery or charger (like in one video review I saw). 3D LUT import did work with new SD card that was formatted ntfs (old 4gb card in FAT32 did not). There is small lag in monitor image at least with omd em5 mk2 but external hdmi signal out from monitor was lag free. Audio monitoring works thru headphone jack with the cameras that support hdmi audio while recording (omd em5 mk2 only supports it during playback of videofile) and the Firmware version of this monitor was 1.0.2.Amazing monitor with a lot of features for the price in a easy to use package.
ByJoaquín M.Friday, 25 September 2020
Great Budget monitor, I love the LUT option and power the camera with the andycine battery. Have in mind that this monitor doesn't récord. I really recomend it.
ByJeanTuesday, 10 March 2020
ByDarryl PetersonTuesday, 10 March 2020
Awesome piece of kit, very easy to mount with the bracket allowing tilt for different camera angles and lightweight. Touch screen is very easy to use, great for focus assist and other functions. I also like the fact I can apply LUT Settings to match my camera.
ByDonWednesday, 04 March 2020
Took a gamble on purchasing this product. It turned out to be a handy gadget even for still photography. The larger screen enhances composition before shooting as well as reviewing after shot. Highly recommend it for photography studio works.
ByShellyThursday, 27 February 2020
I was so close to getting a Small HD but I am so much more impressed with this that I ever thought. It is a fantastic size, weight, and is sharp. The menu system is very intuitive and the favorites bar at the bottom is a game changer. I didn't think I would get around to using the LUT preview feature either, but it is awesome. The only downside I could even come up with is the bracket has a little sway to it, but I'm really digging deep to find something I don't like.
ByJeanWednesday, 26 February 2020
ByZack CarbienerFriday, 21 February 2020
Didn't know how much I needed this until I took it out for the first time for a shoot. It's amazing how much more you can see on this monitor than the one built in with the camera. Having trouble with focusing? This makes it way easier to see what is in focus and what isn't. This thing is packed full of features and at a great price for being touch screen too!
ByYongjieMonday, 13 January 2020
As a professional that shoots films, I've become more and more obsessed with that perfect focus and exposure as well as good composition and framing. I think the A6 Plus has helped me achieve that overall. It has some nice features of focus peaking, as well as false color. It also has good 1920x1080 resolution, supports 4K input that gives you good overall brightness at 500cd/m at 440ppi. I also thought perhaps the touch screen would be a nice improvement. I honestly find the touch screen to be not as helpful as I thought, but it does pretty much function as intended. It supports L series as well as Canon batteries, but I've only used the L Series and found it to be acceptable. The battery that is included lasts for about 2 hours or so of continuous use and the included charger is adequate despite having a very short cable. the included sunshade is fine and works as expected and you will need it if out in bright sunlight
ByRamFriday, 20 December 2019
This monitor is excellent, having used it for the last couple of days I must say I am impressed. First off you get the monitor, sunshade, power adapter, mount and various booklets .Looking at the monitor it doesn't feel too heavy and it is mainly made of good quality plastic which means it doesn't feel too heavy and the quality is very solid. It has improved from previous models as the battery mount is now stronger and feels more secure and it can now accept Sony and canon batteries.
ByLauri PesurWednesday, 11 December 2019
What I like:1. The usability is just soo much better than the previous model! 
-touble tap for menu 
-swipe up for assist features. [double tap the feature to costumize it]
-swipe up on the left side of screen (screen brightness).
-right side swipe up (volume)
- pinch to zoom2. Lots of assist features built into the monitor that help with the exposure and focusing.
histogram
Focus assist
audio metering
zebra
monochrome
false color [I wish there was the IRE numbers as well]
safety marker
centre marker
scan mode
video aspect
anamorphic modes
flip modes
zoom
freeze
pixel to pixel
Lots3. Audio monitoring has no lag! On the previous model I couldn't use the monitor jack input since it had a lag with the live. Not anymore4. 3D LUT support,[.cube] oh, this is so helpful!!! The monitor already has some LUT's built in for slogs and vlogs and clogs, but you can add your own via the sd card slot. Soo helpful and easy to use.5. The battery mount has 2 battery options, one way Sony F style and other way Canon LP-E6 battery. So which ever ones you have you don't need to get extra converters to fit your batteries.
ByJAYMonday, 25 November 2019
ByChris S.Friday, 22 November 2019
Having not really appreciated the value, I decided I needed to buy a monitor after filming a few YouTube videos blindly, and having done a few corporate jobs where the client wants to review the footage on set.Andycine was always going to be the monitor I bought as I was only after something easy to use and small, and this had some great reviews. The a6 is an awesome monitor - the screen is incredibly sharp, the menu is so so easy to use even for somebody like me who has never used a camera monitor before, and it's small enough to carry around.This price range for monitors is becoming more and more competitive and there might even be 1 or 2 monitors that have more features for this price but you cannot fault the quality of this monitor in both the build and the software, which is why this is the monitor I recommend to most people at this point!At this point I'd normally say something I don't like about it but honestly I haven't found anything that really bothers me yet, but I'll be sure to update this review if I do!
ByFurkanTuesday, 12 November 2019
As a professional that shoots films, I've become more and more obsessed with that perfect focus and exposure as well as good composition and framing. I think the A6 Plus has helped me achieve that overall. It has some nice features of focus peaking, as well as false color. It also has good 1920x1080 resolution, supports 4K input that gives you good overall brightness at 500cd/m at 440ppi. I also thought perhaps the touch screen would be a nice improvement. I honestly find the touch screen to be not as helpful as I thought, but it does pretty much function as intended. It supports L series as well as Canon batteries, but I've only used the L Series and found it to be acceptable. the included sunshade is fine and works as expected and you will need it
ByTimijinMonday, 11 November 2019
This monitor works like a charm and does everything I hoped it would do.Had to figure out how to place the battery so that it wouldn't pop out. I think it was more user error than anything else.
ByJAYWednesday, 06 November 2019
ByAntonioTuesday, 29 October 2019
Great price for this very bright and also very large monitor. I had the Lilliput and the Blackmagic and I must say that this is the happy medium with a few more points than the BM. The materials are not the most solid, it is light and it seems that at the first fall it could shatter, but this could be an advantage for those who put it on a gimbal. I was pleasantly surprised both by the HDMI output, which many high-level monitors do not have, the possibility of taking it in SDI version and the thousand options, including the "flip". 5 stars for everything, really a great product, we'll see how long it will last
ByMarcos RochaMonday, 28 October 2019
ByCaptainFriday, 18 October 2019
The Andycine A6 Plus has so many features ,packing list an HDMI cable, a sunshade, and a microfiber cloth to clean the monitor. The monitor itself is made mostly of plastic and is relatively lightweight. Regarding ports, the monitor has an HDMI in and an HDMI out, it has a headphone jack to monitor audio. There is a port where you can plug a dc connector to power the monitor for longer periods by powering it through a wall adapter. Something that is very unique about this monitor is that it has an sd card slot on the bottom which you can use to load luts on to the monitor, so you can see what your final image will look like if you are shooting in a flat picture profile. I personally was really impressed by the touchscreen feature of this monitor, it is very easy to use and makes navigating through the menus of the monitor a breeze. Overall I think the Andycine A6 Plus is a great monitor for people who are looking for a monitor that can display beautiful image quality with the added functionality of touchscreen navigation.
ByOn the RadarFriday, 18 October 2019
I have two of the A6 monitors and was very happy with them so I was excited to try the A6 plus. I love the fact that it has 3 power options. You can use the Sony and Canon battery's as well as a 12 volt plug. The screen is sharp and bright and the touch screen which can be turned on or off is very responsive and on point. The HDMI in and out is big to because I can connect another monitor to get multiple viewing options. It has a card slot for LUT and 3 quarter 20 threads for multiple mounting options. It has a bunch of other features like histogram and being able to pinch the screen to zoom. The monitor powers on fast but one drawback is even when it is off the battery is still active so it will drain the battery unless you take it out when not being used. It comes with the L mount bracket and its nice but I recommend getting the vlogger mount by Andycine, it works much better. I overall am very pleased with this monitor as I am with every other Andycine product that I own.

USD

Your cart is currently empty.