Accsoon CineEye 2S 5G Wireless Video Transmitter (Second Generation - SDI Version)
stars, based on
( 0 )
reviews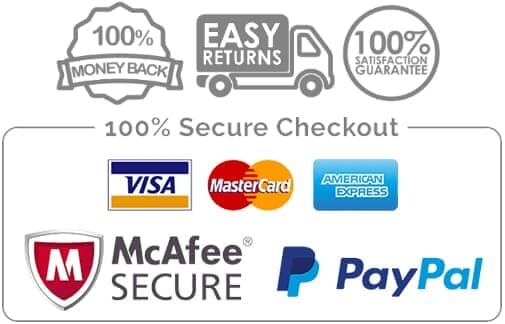 Accsoon CineEye 2S 5G Wireless Video Transmitter (Second Generation - SDI Version)

Brand: Accsoon Item Number: CINEEYE 2S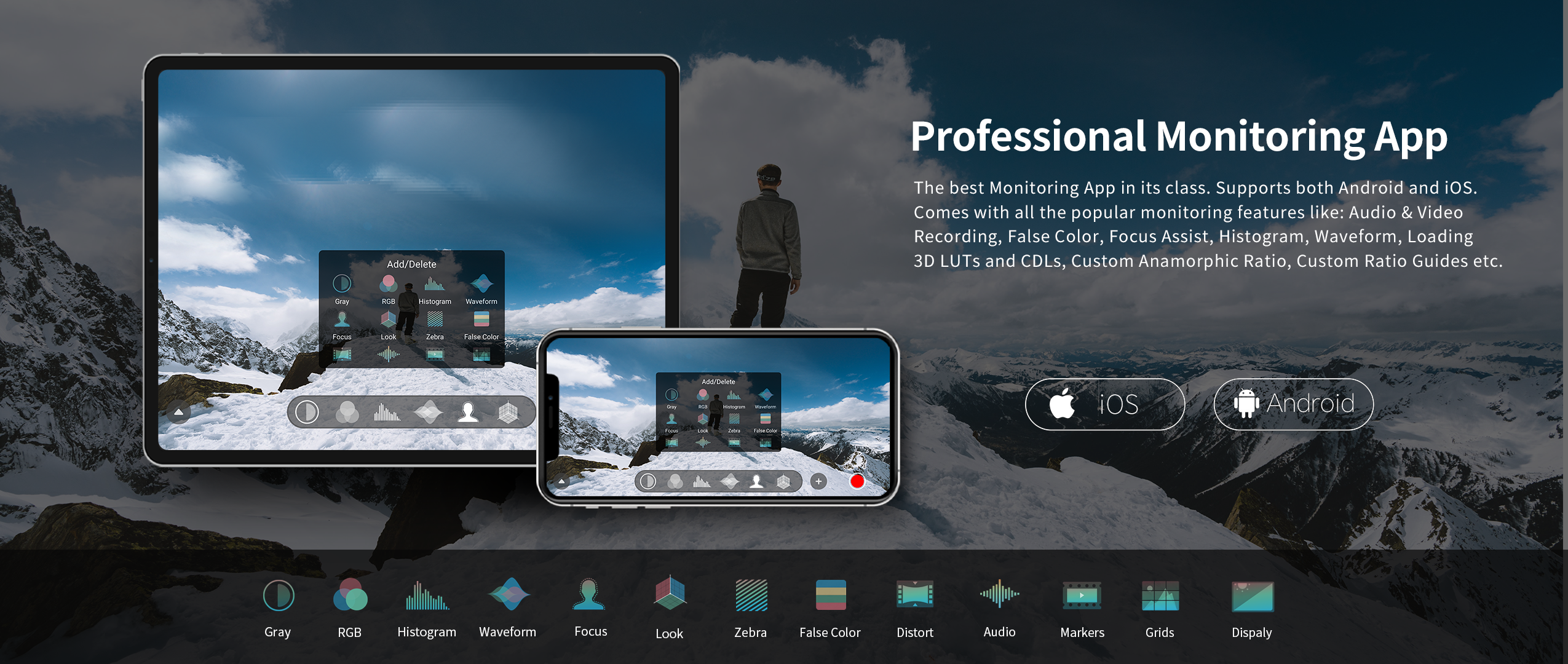 CineEye 2S further optimized the transmission process, From the transmitter to the mobile device CineEye 2S has less than 0.06s of latency. It also supports 44KHz 16bit synced audio transmission, you can now stream the video with sound. The transmitter can send to up to 4 devices at the same time, and there's no limit to the combinations of receivers, no matter if its four iphones/ ipads and android devices or even freely mix and match, you can get synced video stream on all of them.

CineEye2S have SDI input and hdmi input

Accsoon Go app supports both Android and iOS platforms. The latency on iOS devices can still reach less than 0.06s. Now you can get sharp image quality similar to online video platforms' high quality 1080p playback.

With High Image Quality, Robust Connection, Smooth Playback, Now you can turn you mobile devices into true wireless productivity.

All aviation grade CNC Aluminum Enclosure, high performance Low power draw chip, 1.3 inch OLED status screen, and fan-less design ensuring zero noise. NP-F and DC Input can be hot swapped for long shoots.

Turn your phone into a wireless recorder, which can record high-definition video in your phone for you to share in time
Transmitter

Video Input

HDMI+SDI

Video Format

HDMI :1080p 23.98/24/25/29.97/30/50/59.94/60fps

1080i 59.94/60fps

720p 50/59.94/60fps

480p 59.94/60fps

SDI: 1080p 23.98/24/25/29.97/30/50/59.94/60fps

Audio

44.1KHz/48KHz 16bit/24bit PCM

Camera Control

Yes,

Latency

<60ms(IOS syestem)

OLED

1.3 inch OLED

Firmware Update

Yes, via App

Antenna

2 antenna

Channel

Auto/Manual, 20 channels (depend on local RF laws)

Transmission Power

17~20dBm

Range

150 meters(open sight, 1 transmitter to 1 phone)

Power Supply

NP-F550,NP-F750,NP-F970

DC(7.4~16.8V) Input;

Power Consumption

3.5 Watt (Typical)

Mounting Hole

1/4'' with Arri Locating Hole

Operating Temp

0~45 deg-C

Dimensions

108mm×67mm×30mm

Weight

213gram
K

EY FEATURES
1.

L

ow Latency, True Wireless Productivity on Set
Latency is a big thing for wireless video transmitters. From the transmitter to the receiver, CineEye 2S has less than 0.06s of latency, which is the best performance in its range. No matter if it's monitoring or follow focus, CineEye 2S can handle it.
2.

M

onitoring on the "Big Screen", Experience like never before
With Accsoon GO App, the latency on iPad is still less than 0.06s, equal to other professional monitors.
Now with more professional monitoring tools in our app, your iPad can turn into a pro-level on-set monitor, but with a 12.9 inch big screen and a lightweight enclosure that's easy to carry around, giving you a refreshing taste of what smart monitoring should feel like.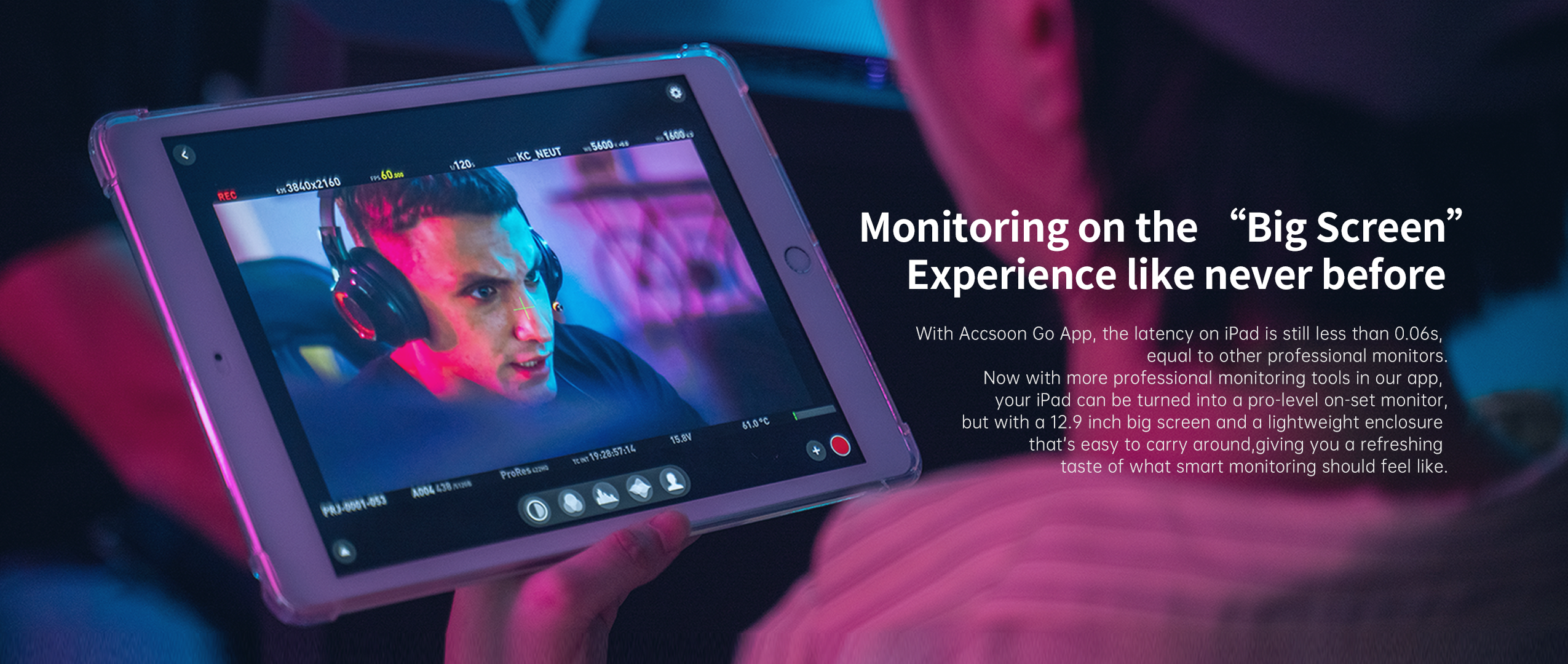 3. 400ft or 150m of Transmission Range
4.

O

ne Transmitter for Multiple Receivers
CineEye 2S can send to up to 4 devices. iPhones, iPads, android devices, mix and match. Do it however you want.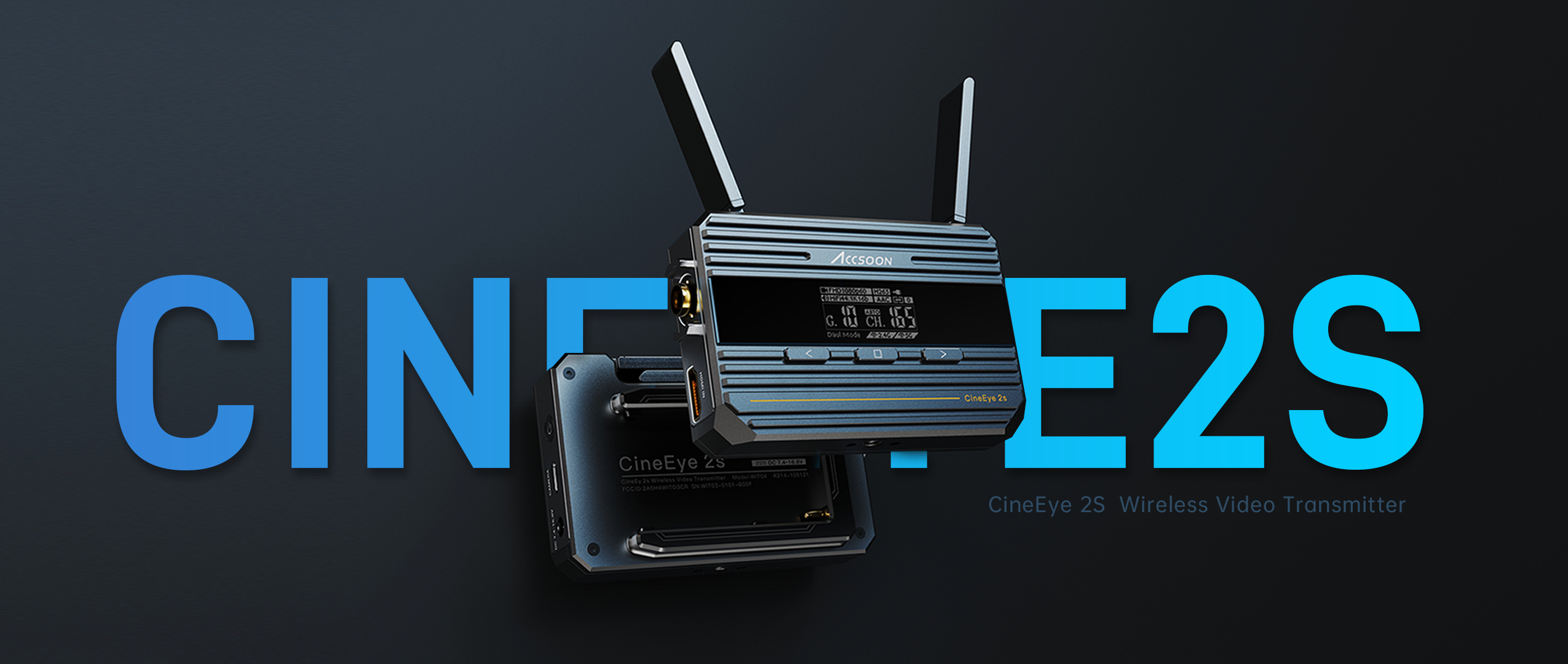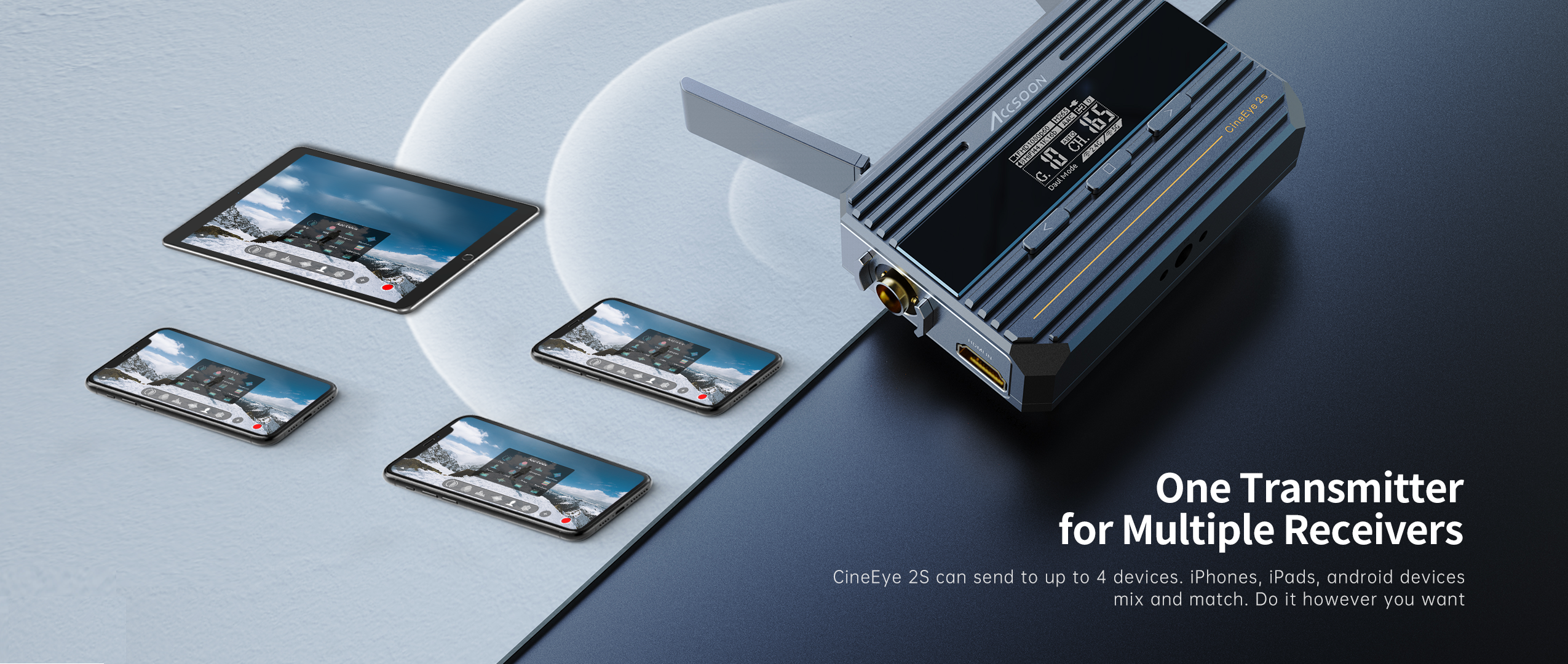 5.

T

his Time, with Sound

,H

igh Quality Synced Audio and Video Transmission
CineEye 2S supports video input of up to 1080p 60fps. it can give you much sharper image, fulfilling the needs of professional monitoring.
Also supports 44.1KHz/48KHz 16bit/24bit audio input, and it streams the audio with low compression codec, giving you near lossless audio monitoring experience.
6.Professional Monitoring App
The best Monitoring App in its class. Supports both Android and iOS. Comes with all the popular monitoring features like: Audio & Video Recording, False Color, Focus Assist, Histogram, Waveform, Loading 3D LUTs and CDLs, Custom Anamorphic Ratio, Custom Ratio Guides etc.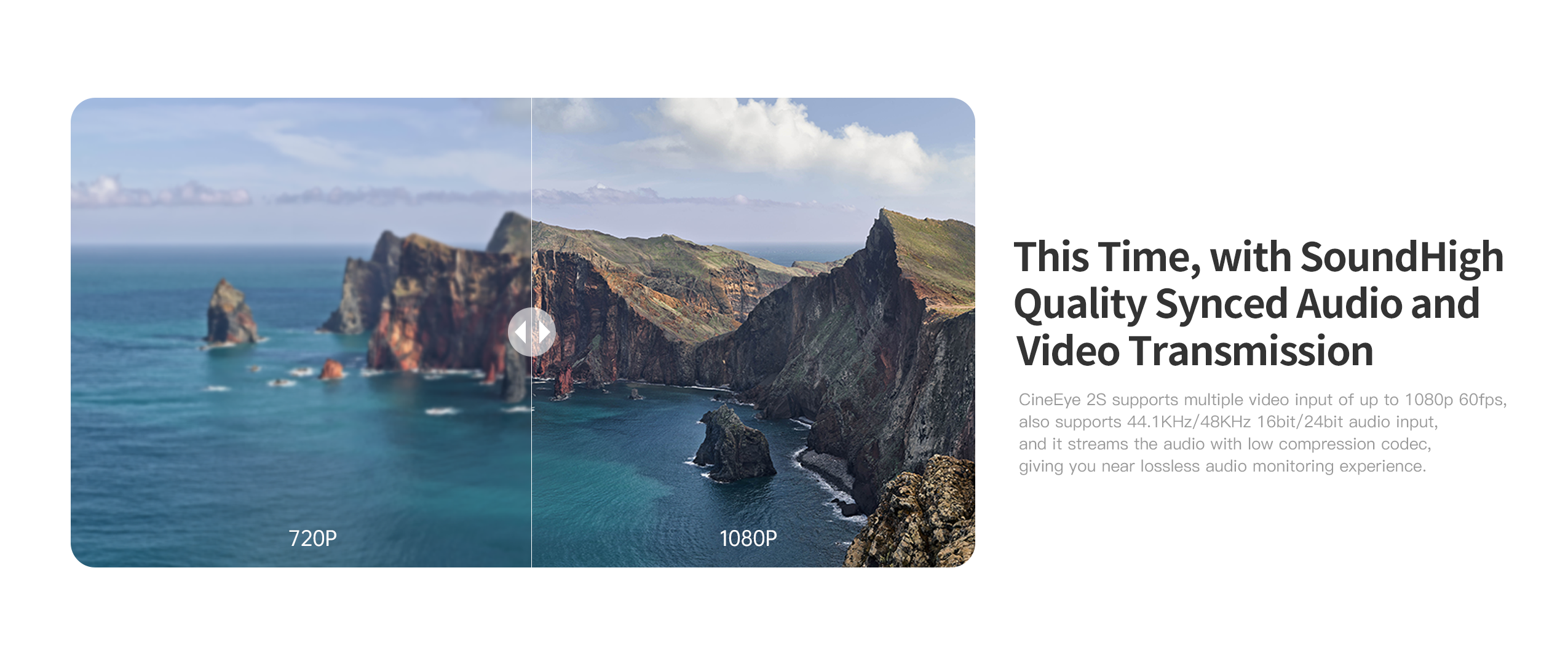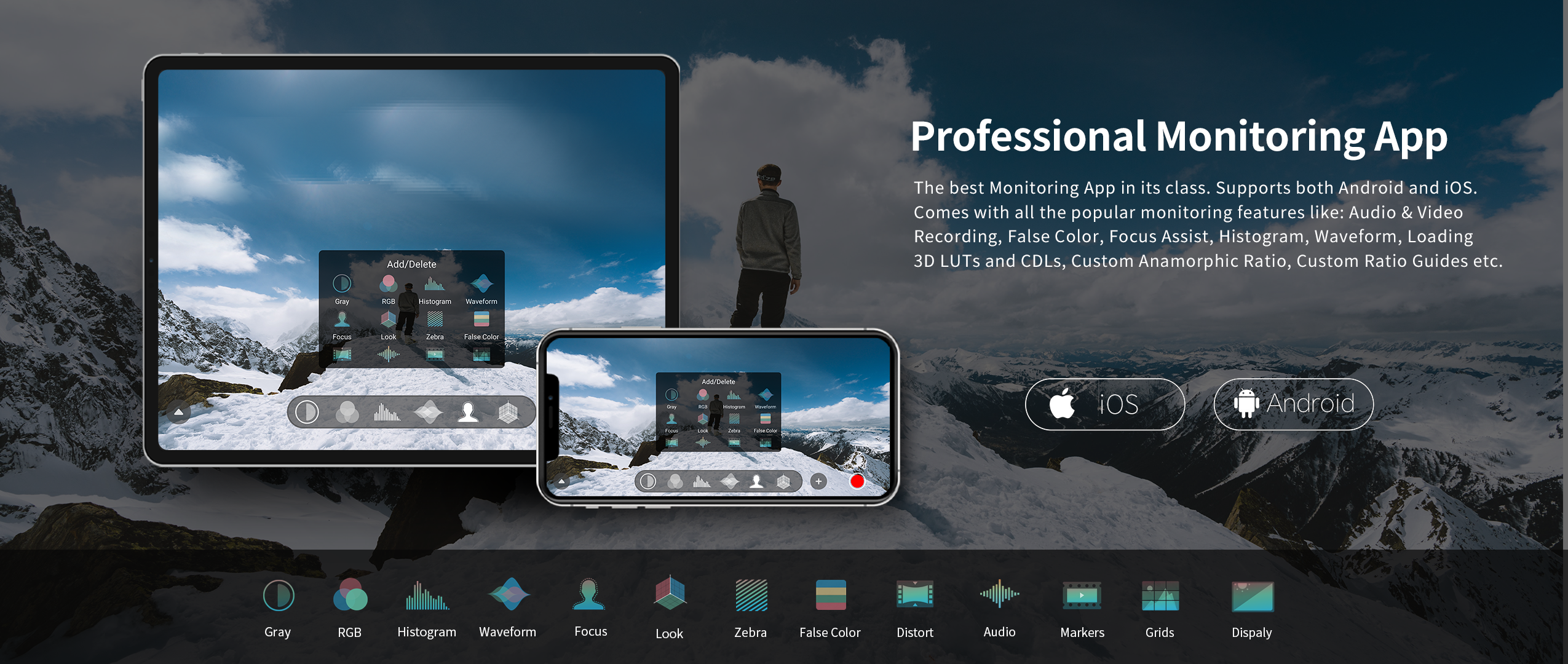 7.

S

upports HDMI and SDI input
The transmitter supports HDMI + SDI input
8.

A

utomatic Channel Selection
CineEye 2S supports 20 channels. During its boot time, CineEye 2S will automatically select the cleanest channel to stream, it will further improve CineEye's anti-interference capability, ensuring ultra-stable wireless connection.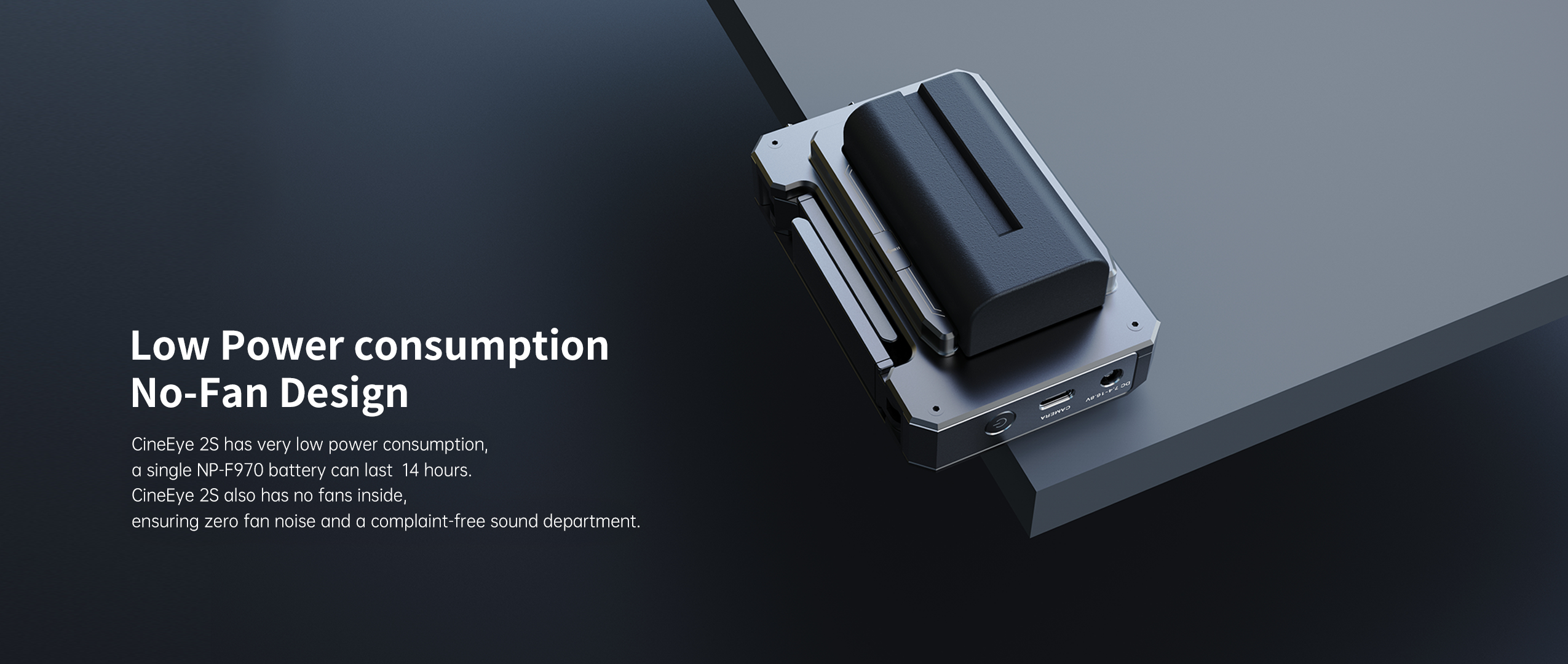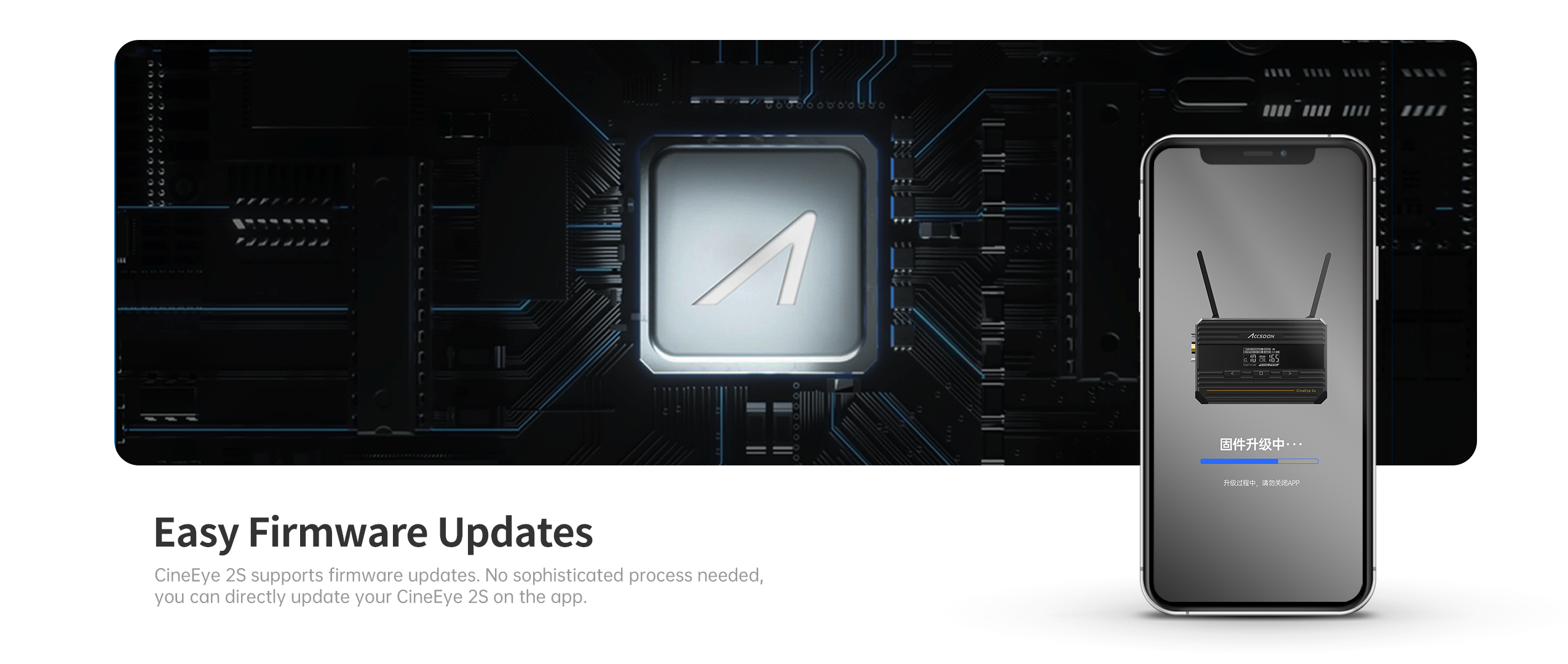 9.

Low Power consumption, No-Fan Design
CineEye 2S has very low power draw, a single NP-F970 battery can last you 20 hours.
CineEye 2S also has no fans inside, ensuring zero fan noise, adding no trouble to your sound recording workflow.
10. 1.3 inch OLED Screen
CineEye 2S is equipped with a high-bright OLED screen. Paired with a clean and simple UI, you can easily learn about the real-time connection status and battery voltage. And with simple control logic, you can quickly adjust settings on the transmitter and receivers such as Video Quality Modes and Channel Selection.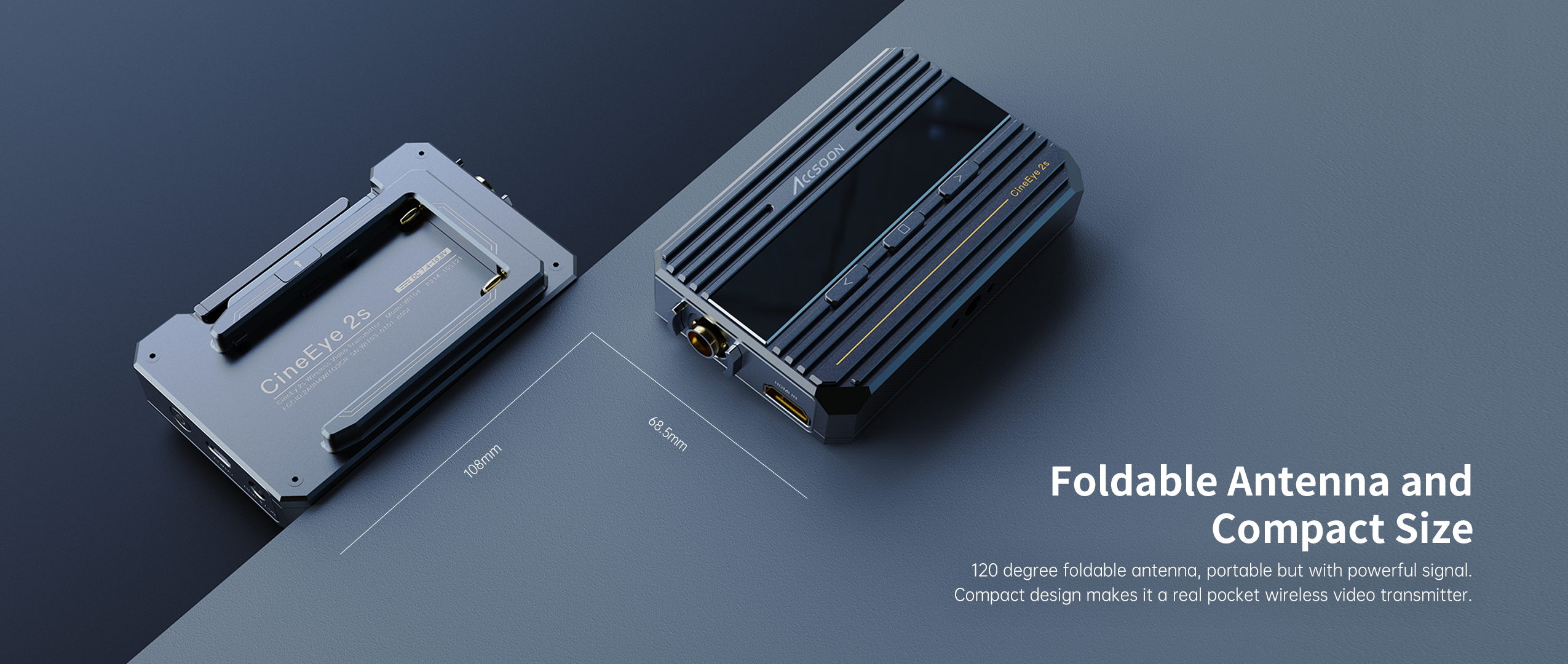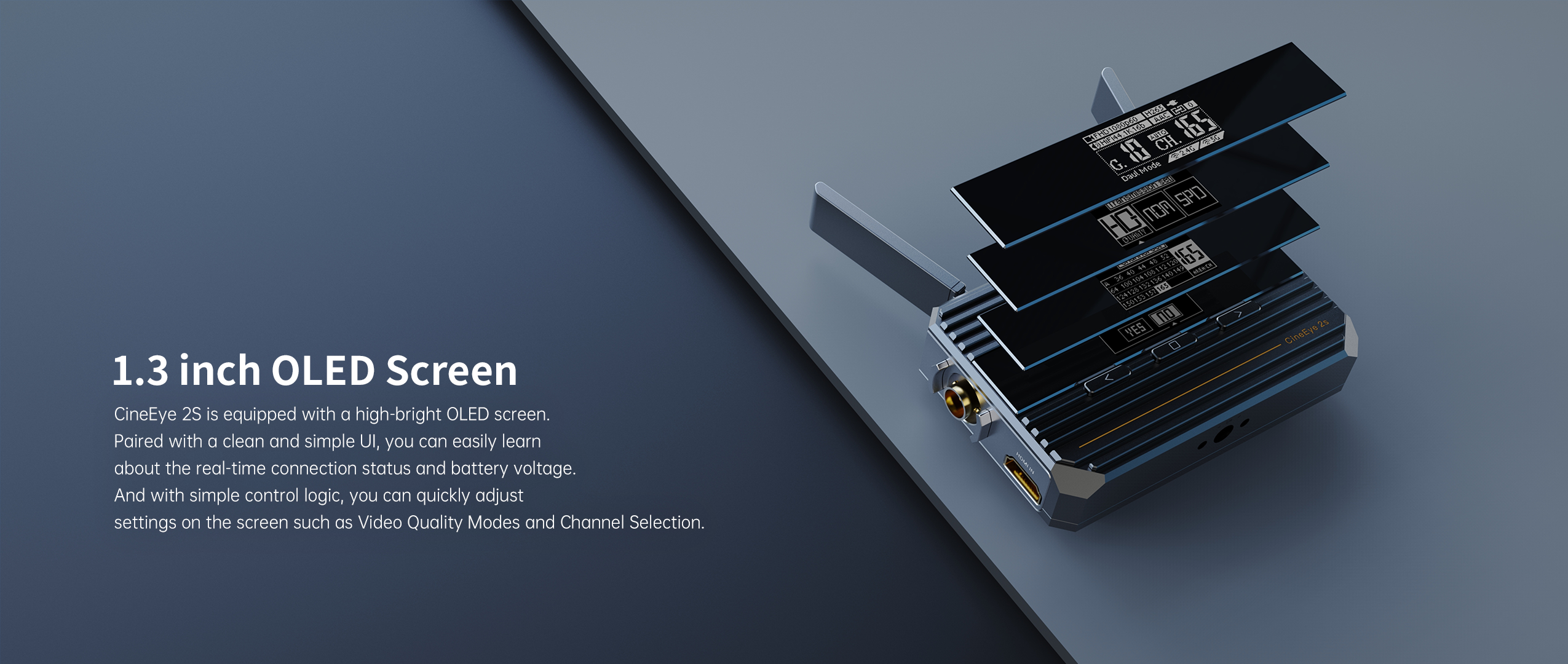 11. Easy Firmware Updates
CineEye 2S support firmware updates. No sophisticated process needed, you can directly update your transmitter and receiver on the app.
12. Camera Control
When using our app for monitoring, you can send Rec./Stop commands to your camera. Supports mainstream cameras like Sony A7/A9 series, Canon EOS-R/5D-MK4, Panasonic GH5/CH5S/S1H, Nikon Z6/Z7, Fuji X-T3 and more.
(camera control needs correct control cable for your specific camera, sold separately. Later we'll release control cable for various cinema cameras.)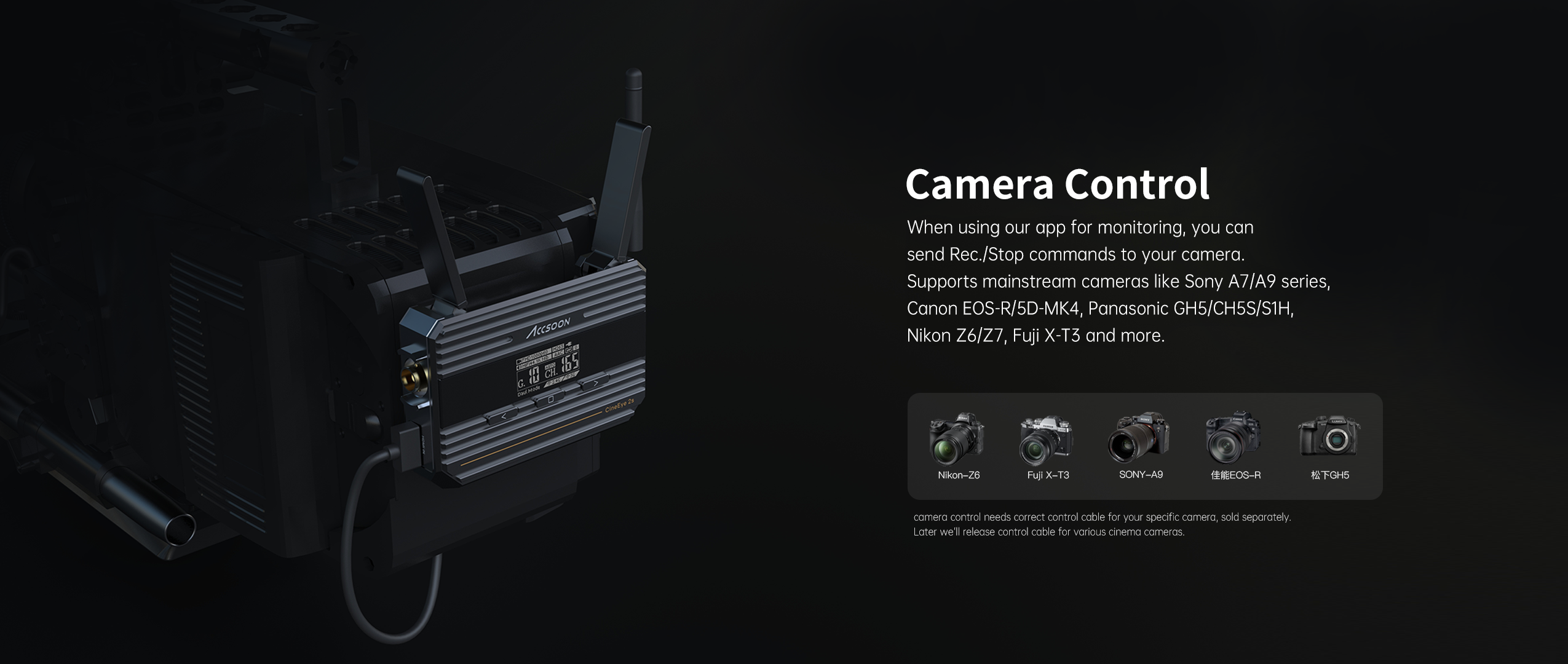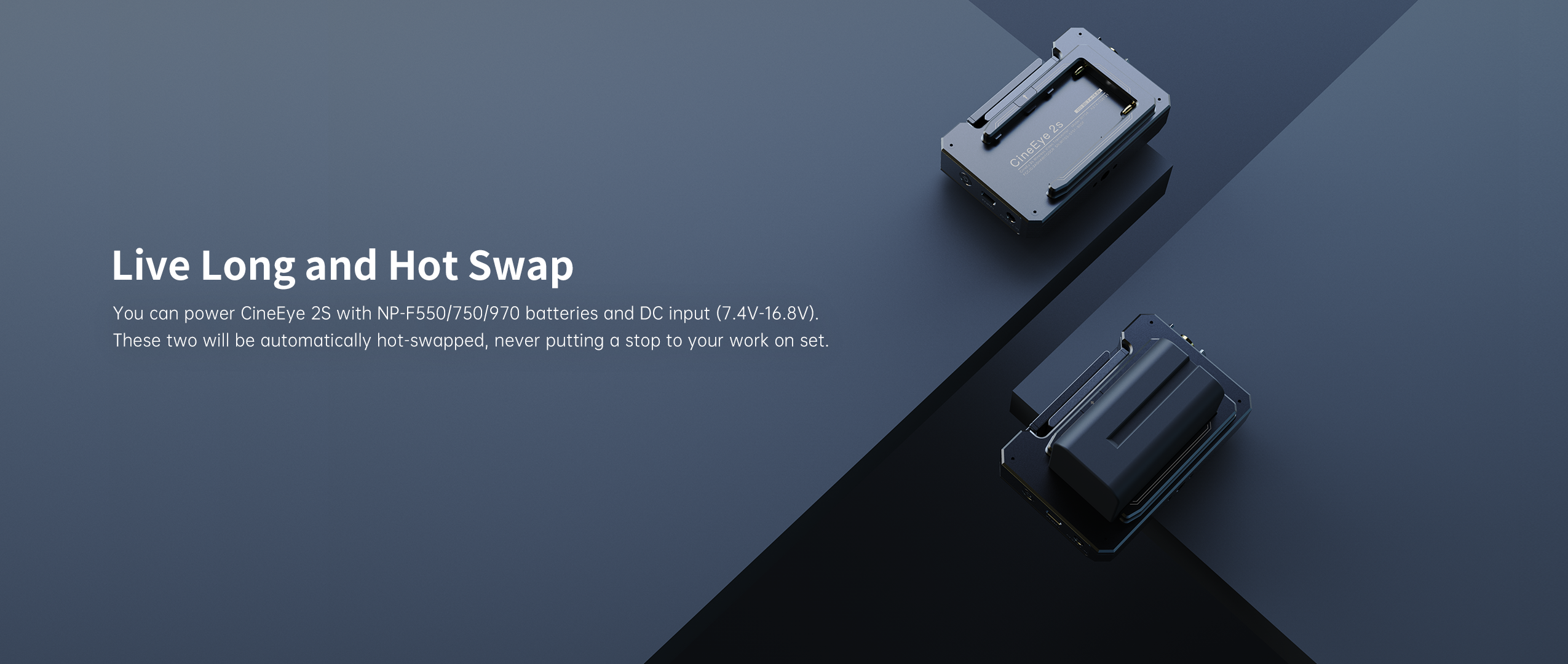 13. Live Long and Hot Swap
You can power CineEye 2S with NP-F550/750/970 batteries and DC input (7.4V-16.8V), and a single NP-F970 can last you 20 hours. These two power inputs will be automatically hot-swapped, never putting a stop to your work on set.
14. RECODE the HQ video in your phone

Package List
1. Transmitter*1
2. User-Manual
3. Cold-Shoe Adapters*1

USD

Your cart is currently empty.