ANDYCINE A6 5.7 Inch HDMI Field Monitor DC 8V Power Output Swivel Arm Monitor for Sony,Nikon,Canon DSLR and Gimbals
Brand: ANDYCINE Item Number: AC A6

Note: Please MUTE the monitor in case of loud noise. Press the Left and right arrow keys
Power source: DC-12V, Son NP-F batteries. (Battery and DC Charger not included)
• 5.7 inch IPS screen. Ultra light weight. Perfect size for gimbal and handheld stablizers.1920X1080 Native Resolutions.460nits brightness, 1400:1 contrast. Wide viewing angels. 16.7M(8bit) color display support 4K HDMI signal input. Clear and sharp focus monitors

• Built-in DC-8V power output, you can draw the power from monitor to DSLR or Mirrorless camera via dummy battery separately. Specially designed tilt arms, easy to twist and adjust the best view position increasing your better experience on your shooting and fielding
• Advanced features with Histogram, Zebra exposure, Camera Mode, Image Flip, Check field etc. Provide the much professional assistance on your shooting
• Multi-Function Signal input and output. Build-in HDMI Input Port, Build-in 3.5mm Earphone jack.

| | | | |
| --- | --- | --- | --- |
| Model | A6 | A6LITE | A6Plus/A6Plus v2 |
| Size | 5.7" | 5" | 5.5" |
| HDMI Input | √ | √ | √ |
| Output | 8V DC out Power your DSLR ,3.5mm Earphone | 8V DC out Power yourDSLR ,3.5mm Earphone 4K HDMI | 8V DC out Power yourDSLR ,3.5mm Earphone 4K HDMI |
| Brightness | 450nits | 450nits | 450nits |
| Contrast | 1400:1 | 1000:1 | 1000:1 |
| Battery Plate | SONY-NP | Sony-NP and Canon LP-E6 | Sony-NP and Canon LP-E6 |
| Mirco HDMI Cable | √ | √ | √ |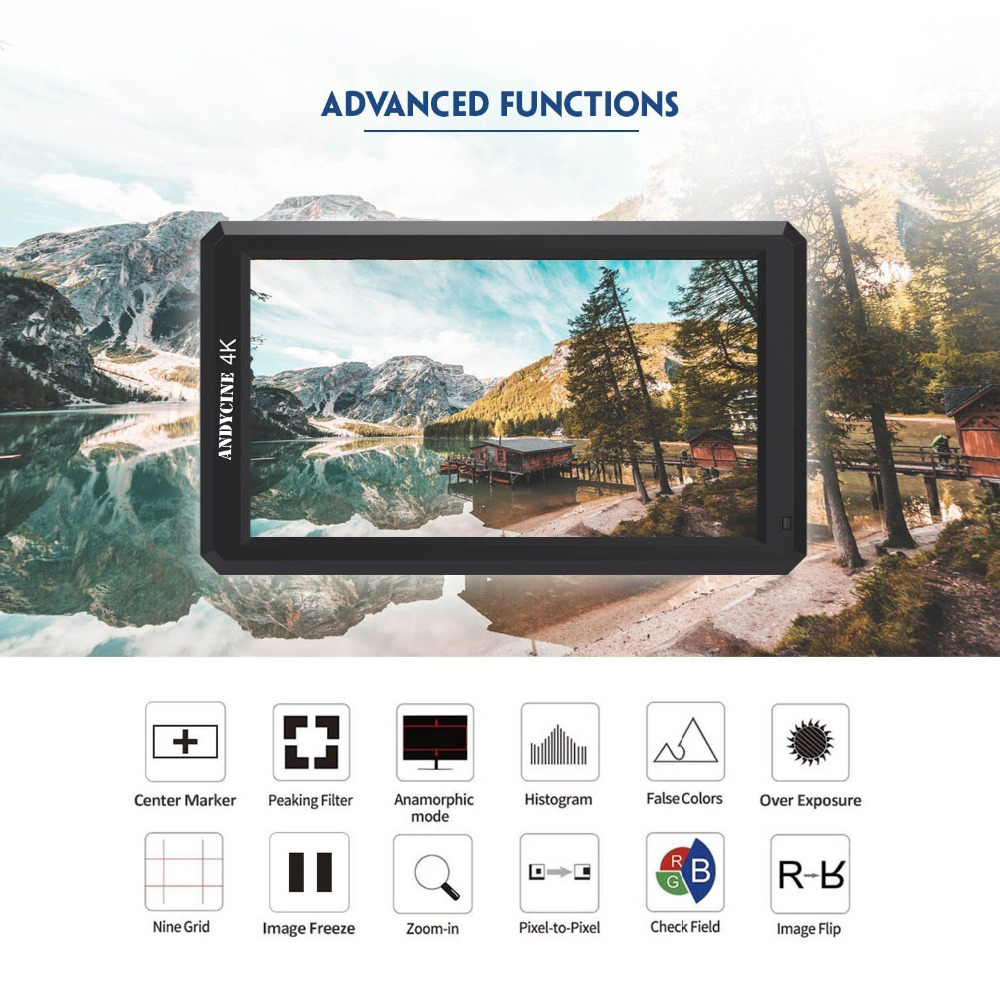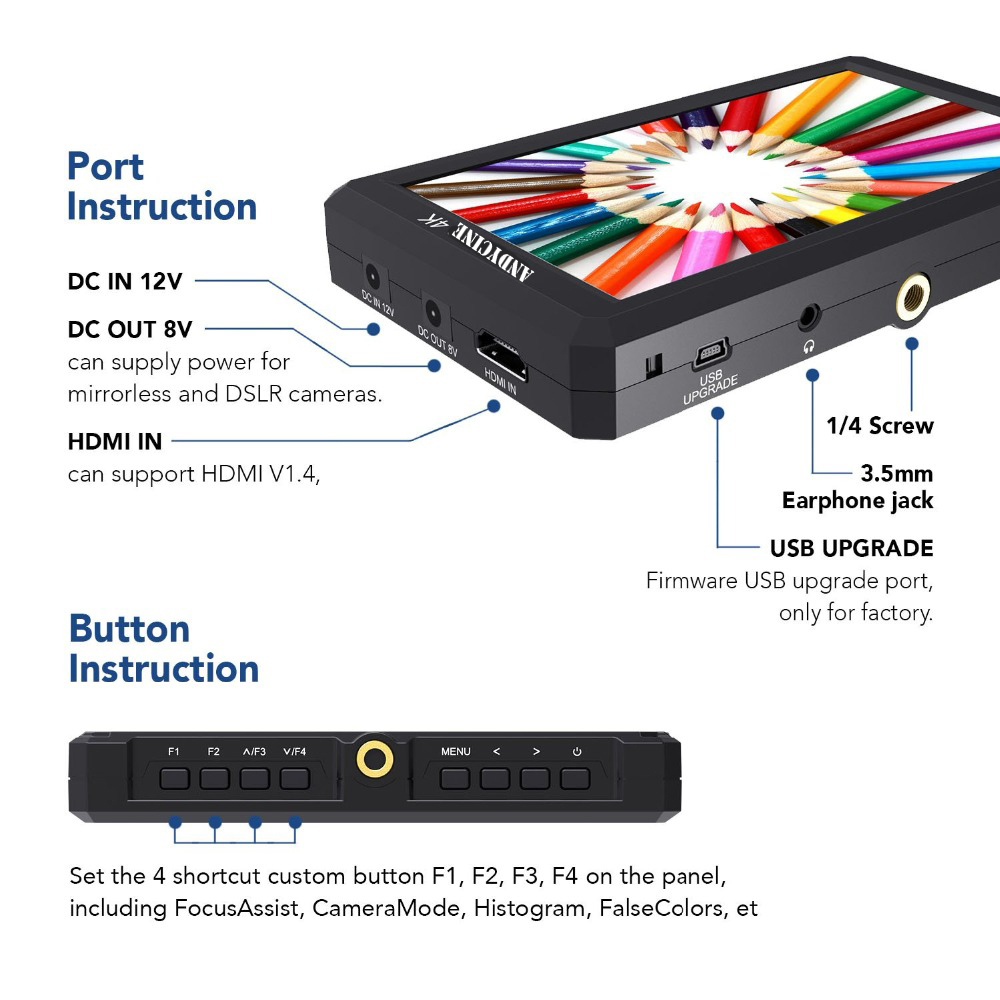 About AndyCine A6
See and capture every detail with confidence
Whether it's a wedding, an indie film, or a television commercial, you need to make sure your images are perfectly sharp and captured at the highest possible quality, no matter what type of camera you use. Andycine A6 helps you make sure every shot is in focus and gives you professional images with the same recording quality used by major motion pictures and prime time TV shows!

Plug into 4K camera and more
Andycine A6 is jam packed with features in a small, lightweight package. It is equipped with 4K HDMI input interface, so you can connect monitor to various 4K camera. You can monitor audio using the 3.5mm stereo headphone jack. And Andycine A6 not only DC input interface, but also equipped with a DC output interface, It also equipped with DC input and output interfaces, you can connect a dummy battery adapter power cable to extend camera working time. (NP-FW50 Sony & LP-E6 Canon&DMW-BLF19 Panasonic for optional).

Flexible Battery System
For power, there's a 12V DC input on the side and space for a battery plate on the back. When connected to the 12V DC input you get continuous power or you can run it off of compatible rechargeable battery. DC8V Power out to power your DSLR camera or mirrorless. True Color. Professional Color Calibration

Use Rec.709 color standard
Andycine uses the professional Rec.709 HD color standard, and uses the color calibration technology, with the professional instrument calibration at the factory, it can achieve monitor calibration efficiently and get accurate color reproduction easily, do not distort the color, show the real image when you shooting video.

Accurate Color Reproduction
Andycine monitor support ITU standards and HD video Rec.709 standard consistent color space, advanced image processing technology, so that the image clearly presented, the color is extremely natural, to ensure accurate color reproduction, to reproduce the physical nature of shooting, enabling users to accurately evaluate the quality of various input video signals.
• Calibration-color
• IPS 1920X1080 Resolution

Better Monitoring
Andycine A6 delivers amazing picture quality in an incredibly thin lightweight design. The wide 170 Degree viewing angle makes it easy for multiple members of the crew to watch it at the same time.

Brightness Histogram
The Brightness Histogram is a quantitative tool to check the picture brightness. The feature shows the distribution of brightness in an image as graph of brightness along the horizontal axis (Left: Dark, Right: Bright)and a stack of the number of pixels at each level of brightness along the vertical axis.

Embedded Audio Monitoring
The Audio Level Meters provide numerical indicators and headroom levels. It can generate accurate audio level displays to prevent errors during monitoring. The audio meter is green, and will turn yellow when exceeds -20dB, and turn red when exceeds -9dB.

Peaking Focus Assist
The Peaking Filter is used to aid the camera operator in obtaining the sharpest possible picture. When activated, the internal processor will display a colored highlight on the screen where sharp edges appear. You can switch the put line color between red, green, blue according to different tone of the subject.

False Color
The False Color filter is used to aid in the setting of camera exposure. As the camera Iris is adjusted, elements of the image will change color based on the luminance or brightness values. This enables proper exposure to be achieved without the use of costly, complicated external test equipment.

Exposure (zebras)
The Exposure is used to assist in exposure adjustment in the mode of Zebra Pattern. It is considered overexposed and displays the moving warning lines onto the over exposed areas. 1-100IRE adjustable.

Check Field
Check Field is an assistant function to adjust camera color settings. Under the check field mode, you can use red, green, blue or mono pixels to generate the image, because hue and saturation can be adjusted more quickly and accurately in this environment.

Zoom In (4X, 9X, 16X)
Image magnification is HD signal in any part, an amplification for high quality close-up.

Anamorphic Mode (1.3x, 2.0x, 2.0x mag, User)
You can choose 1.3x, 2.0x, 2.0x mag, User-defined adjustment: 1.20x-2.00x. Built-in selection of no squeeze, 1.3 x or 2.0 x allows you to use anamorphic lenses or adapters and see the image unsqueezed, even if your camera does not de-squeeze in camera. A 2.0 x mag mode, magnifies the center of your image so you can check the focus of your scaled image.

Image Flip
The Horizontal, Vertical and Hor & Ver of the image around flip.

Nine Grid
Zoom one of the images to realize the full screen. You can switch the Mark color between Red, Green, Blue, White, Black according to different tone of the subject.

Pixel to Pixel
Enable the filmmaker to check the image from the 1:1 signal source without scaling. This feature is essential for capturing optimum detail.

Center Marker & amp; Safe Marker
Safe Mark for View Finding and Composition (80%, 85%, 90%, 93%, 96%, 2.35:1). You can switch the Mark color between Red, Green, Blue, White and Black according to different tone of the subject.

Ratio Marker

(4:3, 13:9, 14:9, 15:9, 16:9, 1.85:1, 2.35:1). Frame blanking zone includes 6 Levels, from 0-6 (Transparent to Black). You can switch the Mark color between red, green, blue, white and black according to different tone of the subject.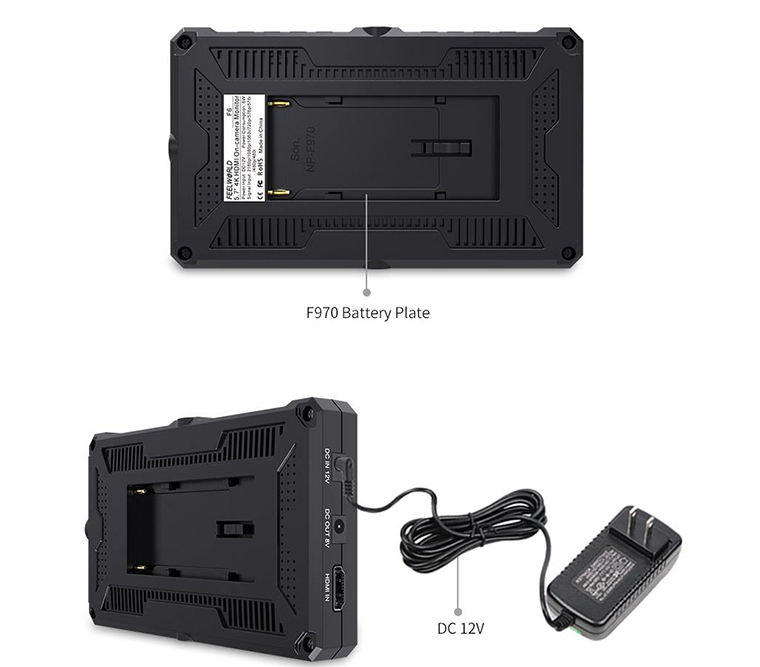 AndyCine A6 Features
95% Color Gamut, Rec.709 Color calibration

IPS LCD panel, support 4K HDMI input: UHD 4K 3840 x2160p (30/29.97/25/24/23.98 Hz), DCI 4K 4096 x2160p (24Hz)

Histogram is a quantitative tool to inspect the image brightness, to guide the exposure control

Focus Assist (Focus edge can be Red, Green, Blue)

Zebra and False Color function, convenient to guide the using light when shooting and the post production

Check Field (Red, Green, Blue, Mono)

Image Zoom-in function

Anamorphic Mode

Image Flip (H, V, H/V)

Image Freeze

Image Nine Grid, zoom one of the images to realize the full screen

Pixel to Pixel

Marker Types, Safe Frames and Center Marker

Brightness, Contrast, Sharpness, Tint, Saturation and Color Temp Adjustment.

Embedded Audio Level/Earphone output

DC8V Power out to power your DSLR camera or mirrorless camera

External sunshade, sunlight readable

What's in the box:
Download user manual:Andycine A6 user manual
1. We accept PayPal only.
2. All major credit cards are accepted through secure payment processor PayPal.

3. Payment must be received within 7 business days of auction closing.

4. We will ship to your address. Please make sure your address is correct before you pay.
1.
Fast Free Shipping ,We have
Stock in US, Europe, China ,shipping time 4-7 days
2. We Ship to worldwide.If you can't place the order in your country, please contact us to help you buy it sucessfully.
3. Items will be shipped within 2 business day on payment received.
1. All our products are new. 1 Years Warranty. Buy with confidence!
2. If you are not satisfied when you receive your item, please return it within 30 days for a replacement or money back. Please contact me before you return it.
3. Shipping & handling charges are non-refundable. Buyer is responsible for all return shipping cost.Prepaid return labels are only provided to customers that have received an incorrect or damaged item.
4. Item must be returned in condition received (Tags & Packaging).
1. All messages will be answered within 1 business day. If you do not receive our reply, please kindly re-sent your message and we will reply to you as soon as possible.
2. We do all that is within our powers to provide excellent customer service to all our buyers. If you think there is a reason to leave negative or neutral feedback, please contact us for assistance and we will do our best to resolve the problem as soon as possible.
AndyCine A6 Specifications:

Panel Size: 5.7,Resolution: 1920 x 1080 pixels,Color Gamut95% NTSC: (Rec.709 Color Calibration),Pixel Density: 386 PPI,Aspect Ratio: 16:9,Brightness: 450cd/sq. m,Contrast: 1400:1,Viewing Angle85 : Degree /85 Degree (L/R) 85 Degree /85 Degree (U/D),Backlight: LED,Adjustable Backlight: Yes,Input: HDMI V1.4, Power IN,Power output: DC OUT 8V, Barrel (5.5mm outer, 2.1mm inner; Power DSLR or mirrorless camera),HDMI Support Format: 480i /480p /576i /576p 720p(60/59.94/50/30/29/25/24/23.98) 1080i(60/59.94/50) 1080p(60/59.94/50/30/29.97/25/24/24sF/23.98/23.98sF) 4K UHD 3840 x2160p (30/29.97/25/24/23.98 Hz) DCI 4K 4096 x2160p (24Hz),Headphone Output: Stereo 3.5mm,Power Input Voltage : DC: 7-24V,Power Consumption: <=8W,Working Temperature:-4 Degree to 131 Degree F (- 20 Degree C-55 Degree C),Storage Temperature: -22 Degree to 149 Degree F (- 30 Degree C-65 Degree C),Dimensions: (L x H x D)6.06 x 3.54 x 0.91,Weight:7.05 oz (200g)
ByTangoMonday, 29 June 2020
Just got here on time! I have a wedding shoot tomorrow and it just came in time and I tested it out and it works right out of the box without any settings. Plug and play. Light weight and very clear. I couldn't find one that is 1080p on this price that works as I wanted, this one does. I already have the battery since I already have multiple LED light that uses the same battery and it works. It uses the Sony camcorder battery that's easy to find.
BynoypiintxWednesday, 04 March 2020
This monitor is used with my gimbal when i take videos. it makes me see the screen clearly even in bright sunlight. It also aids if you want to know if your in focus or not. This is going to be a permanent addition to my set. just makes life so much easier. I attached a ball-head instead of the mount that came with it and now i can move my monitor any way i want it to.
ByKatherine SzewczykWednesday, 04 March 2020
Upon opening this package, I was immediately impressed. The packaging was very nice, it came with useful accessories, and was the perfect size. Below I'll break down the pros and cons:Pros:- Screen Quality- Screen Brightness- Added Features (Zoom, Focus peaking, Image Flip, Etc)- Easy Setup- Plug and Play functionality- Weight and Build Quality- PriceCons:- Doesn't come with battery, but most accessories don't so it's not a huge deal.Overall, I am very impressed with the performance of this monitor. It's my first foray into using a external viewing solutions, and I can see why they are so useful. And for $130, I was really surprised and the screen quality as well as the features it essentially added to my camera. I used this on my Canon 80D, and it gives you focus peaking even though the camera itself doesn't have this feature. While I haven't used alternatives like Atomos or SmallHD, I'd be happy to recommend this, especially as it's a fraction of the price.
ByJ. HoldenWednesday, 26 February 2020
Overall, it is excellent - anything significantly better will cost at least three times as much. Build quality is reasonable. The screen is great, and it is easy to view except in bright sunlight. The inclusion of focus peaking, histogram, headphone jack and false colour means that you can use cameras for video work that lack these features. For example, my Nikon D5300 does not have peaking or an audio output, and it won't even meter with old manual lenses. Adding the monitor compensates for all this and makes it into a far superior video camera. One thing to bear in mind: it may be of limited value if your camera's HDMI output is restricted to preview and playback, but does not work while actually recording.
ByTronageWednesday, 06 November 2019
I have a Canon M50, and the one feature I noticed it was missing was some picture assists, like zebra patterns for anything over exposed. I wanted a way to see that easily, as well move the display "above" the lens rather then the flip out to the size (I always feel it looks a bit more natural looking up rather than to the side when in "selfie" mode. This fit the bill perfectly. Great picture, feels sturdy, and does exactly what I need. The only complaint is the battery goes dead a little quicker then I would expect, nothing terrible though. And being a common battery type, it is easy enough to get others. It is nice how it comes with "Everything" you need in one "kit". I would recommend this to others.
ByJohnFriday, 18 October 2019
Out of the box, this monitor comes with a sunshade, swivel arm for mounting on your camera and an HDMI cable to connect to your camera. With the 8V DC out you can get a cable which can power your monitor and camera at the same time. The construction is plastic but it is so light once mounted on your cameras. The swivel arm will allow you to flip the monitor, the image does not flip automatically but you can program one of the four function keys to help you flip the image quickly. There are several menu options with great features. It is worth the money
ByBCFriday, 18 October 2019
ByAli FidencioFriday, 20 September 2019
The ANDYCINE A6 5.7Inch 1920x1080 IPS DSLR HDMI Field Video Monitor With DC 8V Power Output arrived promptly and is well. The monitor provides the real estate for better composition, colour and white balance . I liked the design despite the absence of a touch screen which may be too much to ask for given the Andycine A6 complexity and price point. However the IPS monitor is light weight and well finished. The mounting arm adds to its utility and indoors it is sufficiently bright with the 1920x1080 definition supporting focus. The fact that you can power a GH5 is invaluable.This is a competitive product.

USD

Your cart is currently empty.