ANDYCINE C6 6" 2600cd/m² HDR/3D LUT 4K HDMI Touchscreen HDMI Input/Output Monitor for DSLR and Mirrorless Camera with Waveform VectorScope
ANDYCINE C6 6" 2600cd/m² HDR/3D LUT 4K HDMI Touchscreen HDMI Input/Output Monitor for DSLR and Mirrorless Camera with Waveform VectorScope
Brand: ANDYCINE Item Number: AC C6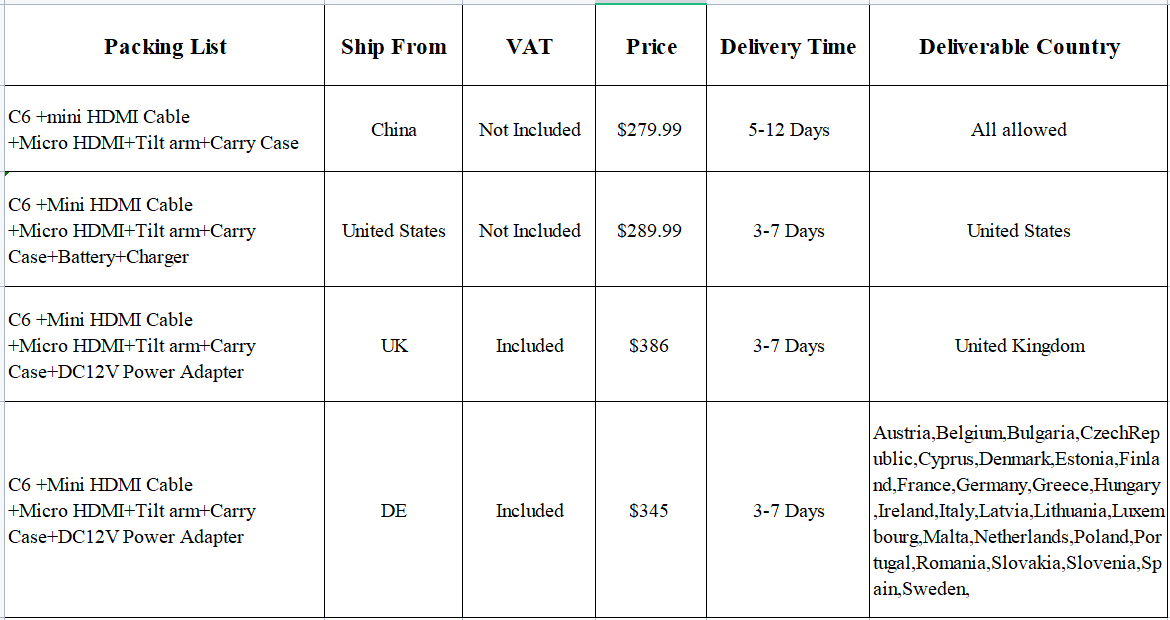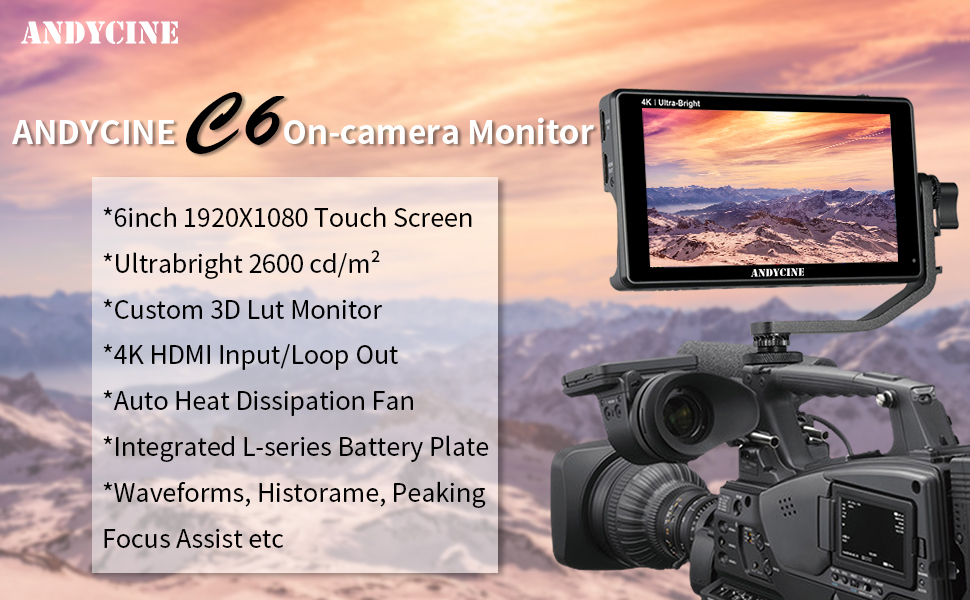 *Daylight Viewable Screen ANDYCINE C6 is designed with a maximum high brightness of 2600 cd/m² so you can easily use it outdoors without seeing your image washed out by reflections. 6inch 1920x1080 touch screen display and hdmi input and loop out support DCI 4K30 Signals.
*Built-in HDR/De-log 3D LUT.s built-in HLG 2020, HLG 709, and HLG P3 HDR 3D LUTs, and Rec. 709 DeLog LUTs, including S-Log2, S-Log3, C-Log, and V-Log. This simplifies the complexities of shooting log and HDR footage by helping you replicate post-production workflows while shooting.Custom 3D LUT Support.Load up to 50 custom LUTs via an SD card
*Multi power options include the built-in L-series battery plate and as well as the DC power port. Meantime,there is an auxiliary DC power output that allows you to run select cameras off the monitor's power supply.(Via the DC Coupler NOT INCLUDE)Batteries and cords are sold separately.
*Accurate Color Reproduction and Accurate Waveform Monitoring. Monitor built in waveform monitoring! Choose from waveform (RGB Parade, YUV Parade, Y Parade), vectorscope, histogram and audio phase and level displays, easy to know technical on your audio and videos. Features Rec.709 HD color standard and calibrated at the factory which calibration efficiently and get accurate color reproductions easily, showing the image when you shoot without distorting the color
*[Ideal Camera Monitor ]The monitor come with the mounting arm which will fit on camera top,gimbals and sliders. The monitor also built-in fans which will automatic running to reduce the heat. Meanwhile, there is a light sensor which will auto detect the light of environment and auto adjust the brightness of monitor.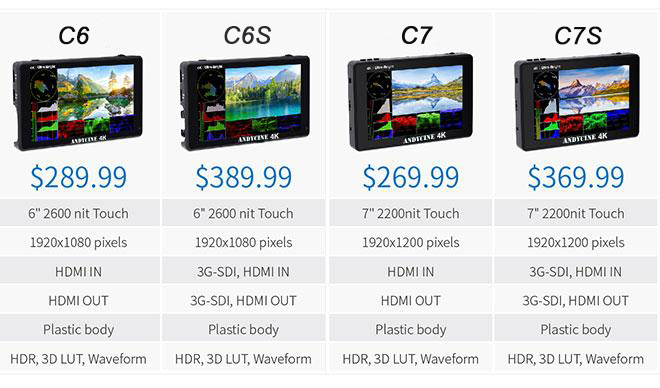 Designed for Every Situation
The C6 equips filmmakers with the benefits of a large on-camera display without making the camera set up feel cumbersome. The front features a large high resolution, daylight viewable LCD touchscreen, there are video connections on the left side and SD card slot on the bottom, and space for a NP-F battery on the back. The outer frame features standard 1/4" mount points on the bottom and right for attaching it to camera and rig. This design detail makes the C6 easy to attach to a camera and easy to share with a team member or client on set.


4K HDMI Loop-out &

Convenient Mounting - Tilt Arm

The C6 has 4K HDMI in and loop-out, it's the ability to display live picture on multiple displays at once while still maintaining the original video quality.
Support Touch Screen and Button Control Menu

You can also get a quick glance at your menu settings and features with an easy tap on the screen. It also supports physical buttons control. Tap/Rotate the wheel button for quick selection and function settings. Tap the power switch to turn off the touch function, designed to prevent misuse.






High-resolution 1920 x 1200

Ultrabright 2600 cd/m²

160° wide-view-angle IPS Panel

Histogram

Peaking focus assist (red, green, or blue highlight over parts of the image in focus)

False color

Zebra exposure

Nine-grid

Embedded audio

Scan mode (underscan, overscan)

Zoom (4x, 9x, 16x)

Anamorphic mode (1.3x, 2x, 2x mag)

Pixel-to-pixel

Center marker

Safe area (80, 85, 90, 93, 96%, 2.35:1)

Ratio marker (4:3, 13:9, 14:9, 15:9, 16:9, 1.85:1, 2.35:1)

Marker color (red, green, blue, white, black)

Check field (red, green, blue, mono)

Image flip (H, V, H/V)

Image freeze

Color temperature adjustmentDual rear battery mount is compatible with Sony L-series/NP batteries: F-970, F-960, F-950, F-930, F-770, F-750, F-730, F-570, F-550, F-530, QM91D, QM91, QM90D, QM90, QM71D, QM71, QM70D, QM70, QM51D, QM51, F-M71, F-M70 series.
Display Colors 16.7M (8 bit)
Pixel Density 440 PPI
Color Gamut 90% NTSC, Rec.709 Color Celibration
Aspect Ratio 16:9
Adjustable Backlight YES
Viewing Angle 85°/85°(L/R) 85°/85°(U/D)
Input/Out Signal HDMI v1.4
SD Card Slot SD Card for 3D LUT uploading and Firmware upgrades
Audio 3.5mm Stereo Headphone
HDMI Input&Out Support Format 480i/576i/480p/576p
1080i (60/59.94/50)
720p (60/59.94/50/30/29/25/24/23.98)
1080p (60/59.94/50/30/29.97/25/24/24sF/23.98/23.98sF)
4K UHD 3840×2160p (30/29.97/25/24/23.98Hz), DCI 4K 4096×2160p (24Hz)
Power Out DC 8V to power camera with a separately available DC coupler
Power Consumption ≤ 10W
Input Voltage DC7 ~24V
1. We accept PayPal only.




2. All major credit cards are accepted through secure payment processor PayPal.




3. Payment must be received within 7 business days of auction closing.




4. We will ship to your address. Please make sure your address is correct before you pay.
1.

Fast Free Shipping ,We have

Stock in EU,US,China,Shipping time 3-7 days

2. We Ship to worldwide.If you can't place the order in your country, please contact us to help you buy it sucessfully.

3. Items will be shipped within 2 business day on payment received.
1. All our products are new. 1 Years Warranty. Buy with confidence!

2. If you are not satisfied when you receive your item, please return it within 30 days for a replacement or money back. Please contact me before you return it.

3. Shipping & handling charges are non-refundable. Buyer is responsible for all return shipping cost.Prepaid return labels are only provided to customers that have received an incorrect or damaged item.

4. Item must be returned in condition received (Tags & Packaging).
1. All messages will be answered within 1 business day. If you do not receive our reply, please kindly re-sent your message and we will reply to you as soon as possible.

2. We do all that is within our powers to provide excellent customer service to all our buyers. If you think there is a reason to leave negative or neutral feedback, please contact us for assistance and we will do our best to resolve the problem as soon as possible.
ByKuanting LingThursday, 18 March 2021
I upgraded from the Andycine A6 to the C6, there are many noticeable differences that makes the C6 a very good monitor. It came in with everything included in the black box as you see in the video. For its price, it's very nice that they included all the things you'd need to use the monitor (cables, monitors, mount...). Everything seems to be of decent quality (the monitor mount that's included in the package is noticeably better than the one that came with the A6). The smaller monitor mount in the video is a separate product that doesn't come with the monitor, but I would recommend getting that instead of using the one that came with the monitor.The package includes:-The monitor itself-HDMI to mini HDMI cable-HDMI to micro HDMI cable-A monitor mount that uses hot shoe on the bottom and 1/4 screw on the right side-Charging plate and cable-Microfiber cloth-Sony NP-F batteryPros:-Bright screen: this monitor is 2600 nits, in other words, bright enough to use comfortably under sunlight. The A6 just wasn't bright enough for me, but the C6 is so much brighter!-Touch features: this allows you to quickly change brightness/volume as well as have access to many of the built in features (vector scope, grid, focus assist...) I shoot on BMPCC4K, so many of these features are already in-camera, but for cameras that don't have these features, it's nice to have them on the monitor.-Port selection: there are HDMI in and out, DC in and out, SD card slot for LUT display, and a 3.5mm headphone jack for audio monitoring.Cons:-The placement of the DC in and out ports are pretty close to the 1/4 screw hole on the bottom, so if you're using a monitor mount that is a little wide, these two ports might be hard to access.-The HDMI cables are the standard thick ones, I would recommend getting some thinner HDMI cables on Amazon for a better experience. The ones that come with the package are still nice enough to use though!Overall I'm pretty happy with this purchase. I have all the features I want in the camera, and so far not many problems at all! Would definitely recommend others.
ByMr. L. TurnerWednesday, 24 February 2021
Spent quite a few days looking into field monitors across all price ranges. I made up some cardboard mockups to see what screen size would be most useful and the 6 inch Andycine and Feelworld (think they're the same) looked to be ideal.The monitor is lightweight but I'm hoping that Andycine or someone else will soon make a cage for the monitor as I wouldn't like to be too heavy handed with it. Saying that the touch screen works well and the monitor is bright and easy to use. The functionality is excellent and I supplement the camera output with the Waveforms and focus assist.The size is perfect for travelling and it balances well on the camera or magic arm.After using this monitor I will now be looking at a 7 inch for indoor use and also as a monitor for my gigging keyboard rig as I can hide the laptop away.To summarise - great product at a reasonable price.
ByMr. TaylorWednesday, 24 February 2021
I was really impressed with the brightness on this small on camera monitor. It's a great size, especially for smaller camera set ups. It comes with a bunch of accessories including a padded protective case, HDMI cables and power supply. It is a little disappointing that this does not include any batteries but there is a UK mains power supply in the box.If you are more likely to be using this outside of a studio environment then I would suggest picking up a couple of batteries. Luckily these are the same type of batteries that power most photography lights so I had plenty of spare ones about.A little tip, if you dial back the brightness on the monitor it saves a huge amount of battery. It's so bright that this is not a problem and even in direct sunlight you are unlikely to have to use it at full brightness. The ability to add LUTs via SD card and features such as false colours, focus peaking and more makes this a great monitor all round and the size is perfect for travel.
ByVICFriday, 15 January 2021
I have since ordered a second similar product from the same manufacturer, just one size larger, and I'm keeping both. For the price point, it is an incredibly high quality, bright display with versatile mounting options.
ByMCKFriday, 15 January 2021
My trusty old super-cheap on-camera monitor has served me well for some years, but it was time for an upgrade. After some thought and research, I decided upon the Andycine C6… and I'm glad I did. It's a great piece of kit and one which I am certain will help me hugely with my filmmaking.The monitor comes very nicely packaged, along with a a mini HDMI cable, a micro HDMI cable, a seriously useful tilting arm and even a smart carrier pouch.One of the first things that attracted me to the C6 was the six-inch full HD touchscreen. (You can use physical buttons is you prefer.) It's a really nice size and is bright, vivid and responsive. Definitely easier to see than most camera screens. Boot-up time was just a handful of seconds, which is more than acceptable. The brightness is automatically adjusted by a sensor according to the ambient light. Love it! Then there's a plethora of imaging tools, most of which I am going to have get used to utilising: histogram, waveform, vectorscope, false colour, peaking focus, audio levels… all available for adjustment with a tap and a swipe. I can have as many or as few displayed as I choose. I devoted a bit of time to studying the functionality of the screen; time well-spent as it's now a doddle to use. I have also enjoyed being able to load LUTs via an SD card (maximum of 50) – this is a fabulous addition which I made full use of during my first test 'run'.I haven't weighed the unit, but it didn't strike me as being overly heavy and it was certainly comfortable to handle and attach.I am very happy with the quality of the display image, especially as it can be altered via hue, saturation, sharpness and contrast. Colours are vivid and visibility is spot-on.Build quality is fine: the monitor body is made of plastic but, with careful handling, should withstand the rigours of filming. Everything seems well-made and I must confess to being rather taken by the overall design.Something else I noticed was that the operation is surprisingly quiet. I was concerned that the fan would be a distraction, but not so. Not a problem. Plus it promises to prevent over-heating, which is a valuable touch.In conclusion: this is a fabulous monitor. Not the cheapest by any means, but equally not the most expensive. After an initial test, I am in no doubt that this is a sound investment and one that I am going to make full use of for years to come. How did I manage without it?
ByTerry WarfieldTuesday, 20 October 2020
This monitor is amazing! It is bright enough to see everything even if you are on the beach.This item is very affordable and a complete. I would highly recommend this monitor.
Hi. This looks great. My only concern is the fan noise. In an interior room interview for example, would the fan be noticeable?
ByAlexTuesday, 20 October 2020
This monitor is AWESOME! I got this for its brightness since I tend to shoot more outside in the sun for run and gun purposes and it's perfect! The features are great and I love how the menu is super simple to access via touchscreen. I also love the 6' size vs the 5'
Hi. This looks great. My only concern is the fan noise. In an interior room interview for example, would the fan be noticeable?
ByMattTuesday, 20 October 2020
This monitor is higher quality than I expected at this price point. The size is perfect for me and I really like how bright the screen is, it's even visible outdoors during the day which is priority number one for me. It has plenty of inputs which means plenty of options for a variety of setups. Overall this is just a really dependable, easy to use, simple, affordable monitor and I like it a lot.

USD

Your cart is currently empty.