ANDYCINE M1 Camera video microphone mini and lightweight 3.5mm conversion cable microphone for iPhone, Android Smartphones, Canon EOS, Nikon DSLR Cameras and Camcorders
stars, based on
( 5 )
reviews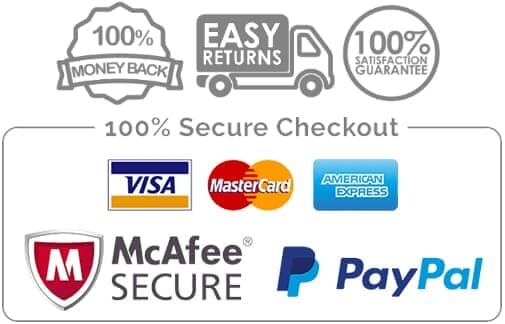 Brand: ANDYCINE Item Number: M1

[Supported devices] This product is compatible with DSLR cameras, camcorders, recorders, PCs, iPads, iPhone / Android smartphones with a 3.5mm audio jack. You can supply power from your own camera, so no batteries are required. In addition, a windshield is included, so it is a convenient and recommended microphone that has everything you need.
[Wide sound collection range] Frequency response: 40-18KHz; Sensitivity -38 ± 3dB RL = 2.2KΩ Vs = 1.5V; SN ratio: 130dB SPL; Applies to long-distance sound collection. It uses a standard universal connector and can be easily connected to the camera.
[Unidirectional sound collection] With the heart unidirectional microphone characteristics, you can avoid picking up unnecessary sounds and it is also effective in reducing ambient noise. It is unidirectional, and the microphone is a monaural microphone, which is suitable for pickups with different volumes that can pick up interviews and conversations. Applicable to all standard 3.5mm interface SLR cameras and camcorders. Specially designed for cameras and high-sensitivity condenser microphones to enhance recording quality.
[Ambient noise reduction] Cardioid type directivity is adopted to block wind and noise during shooting and ambient noise. In addition, it is also equipped with an anti-vibration function, which makes the microphone resistant to vibration noise that occurs during focus adjustment.
[Package contents & warranty] If you have any problems with the product, please feel free to contact us. If the product becomes unusable during this period due to initial failure or natural failure during use, we will replace it.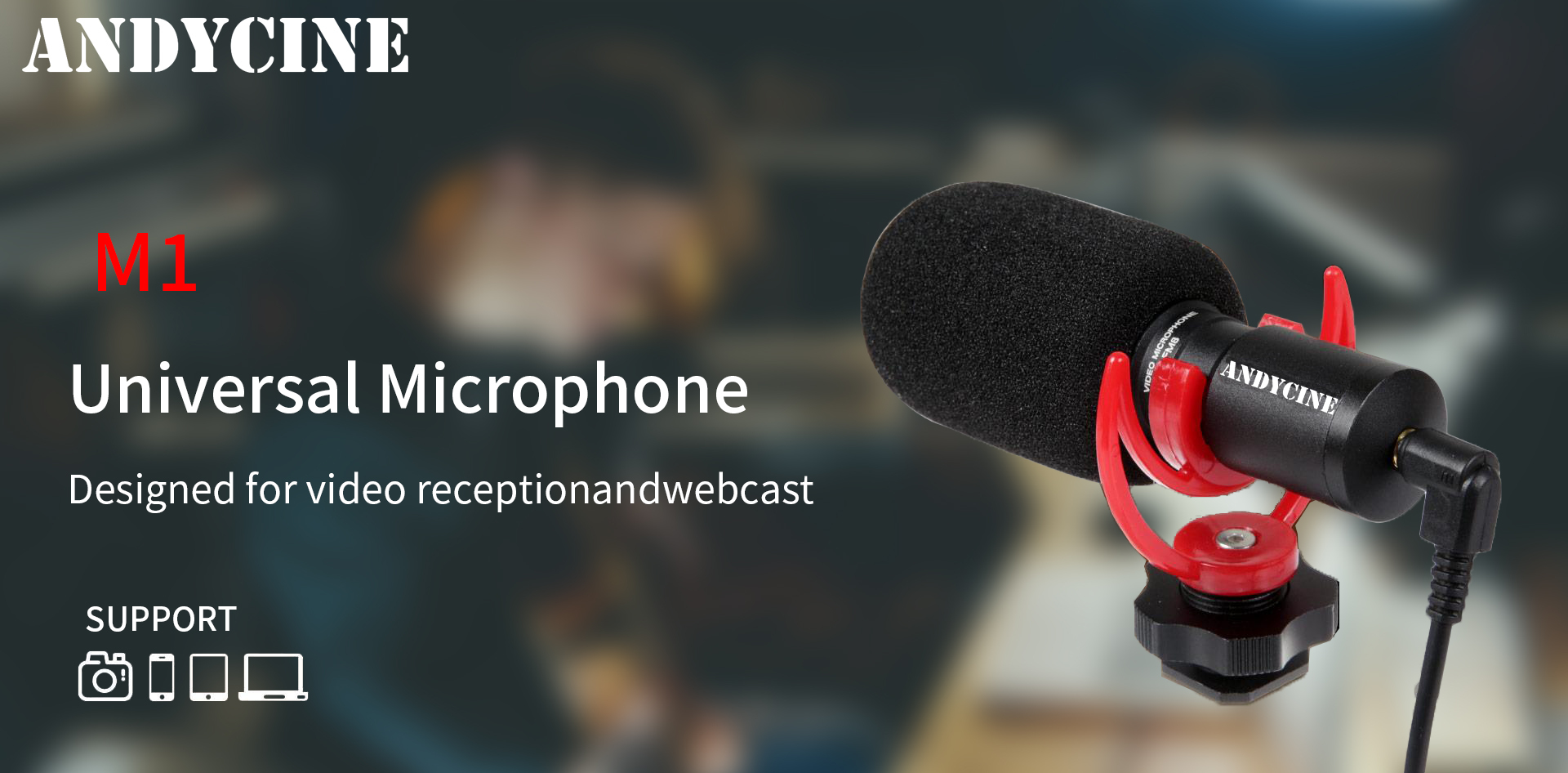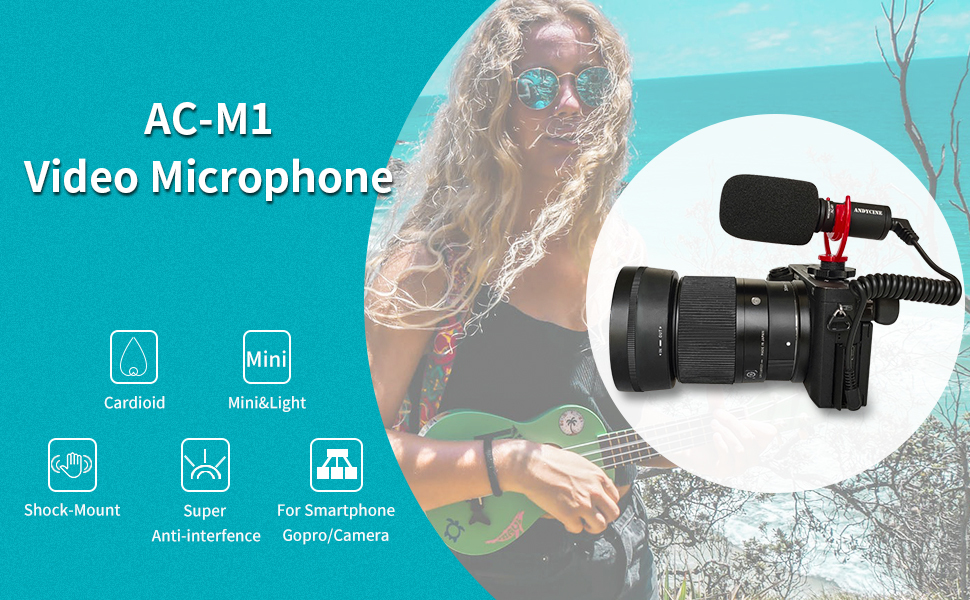 Put on the deadcat windshield for better expeirence when recording with a mobile phone outdoors.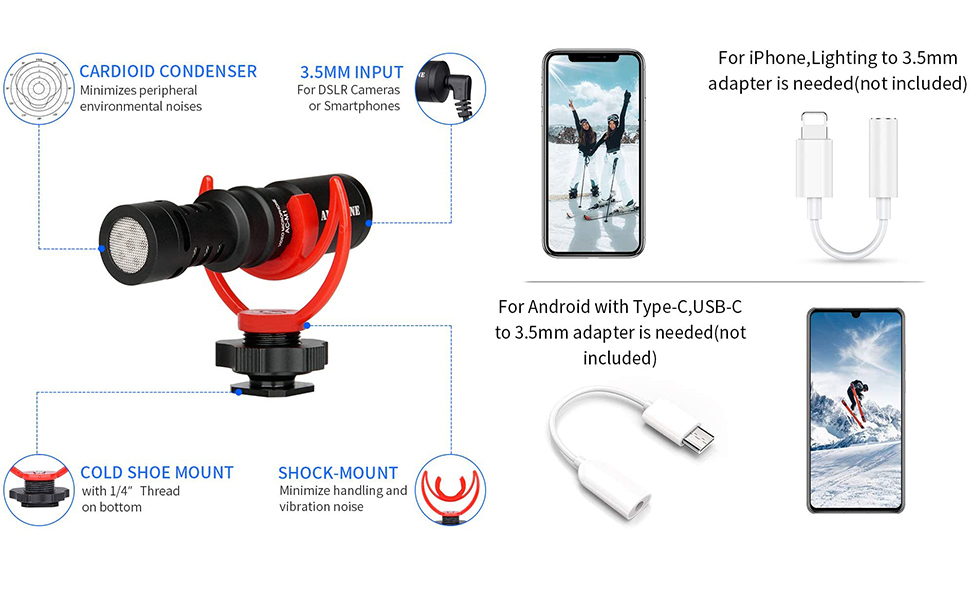 When used indoors, using the sponge cover can protect the microphone and filter unwanted noises.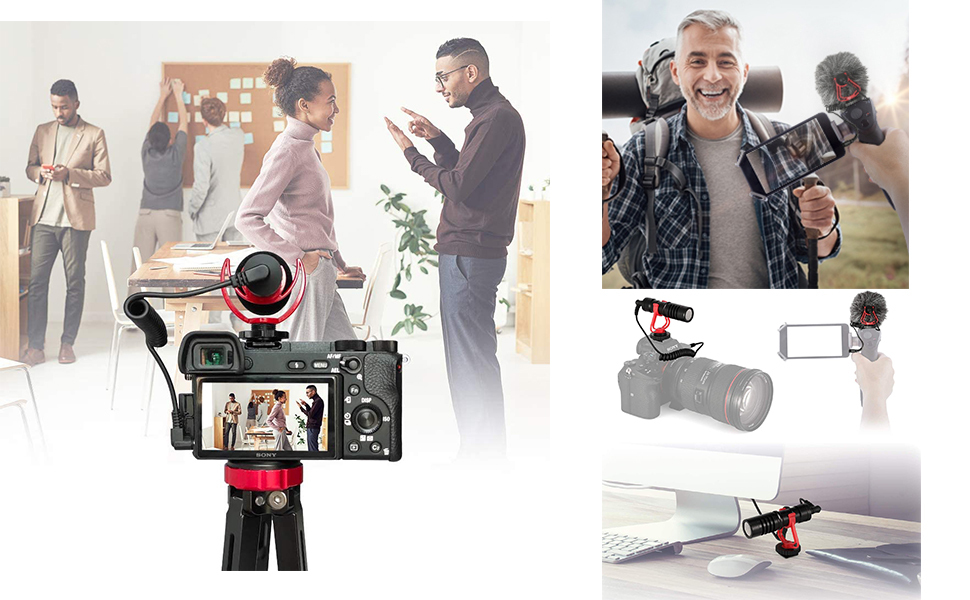 Put on the deadcat windshield for reducing wind noise when recording with a mobile phone outdoors.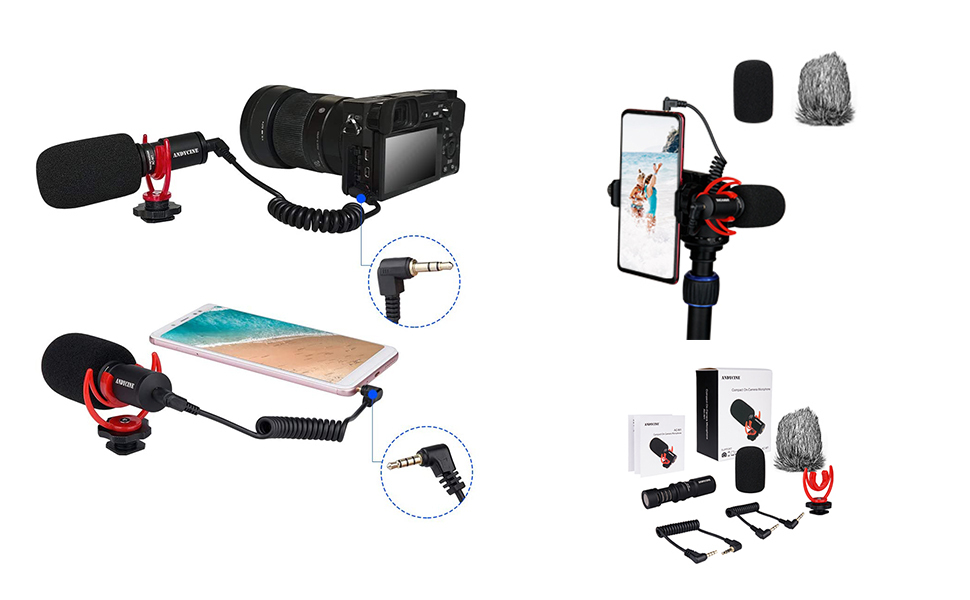 Andycine M1 is a universal video camera microphone designed to significantly improve audio quality compared to built-in microphones. No battery is required, simply plug in the microphone and it's ready to go. The product is equipped with a 3.5mm cable that can be used with your phone's own jack plug adapter.
The microphone uses a cardioid condenser capsule which is ideal for minimizing environment noises and focusing the pick up on the subject in front of the mic. An integrated shock mount also reduces handling noise and unwanted vibrations which often ruin audio recordings. The product equipped with a deadcat windshield and a sponge cover suits all kinds of audio production indoors and outdoors.

Packing list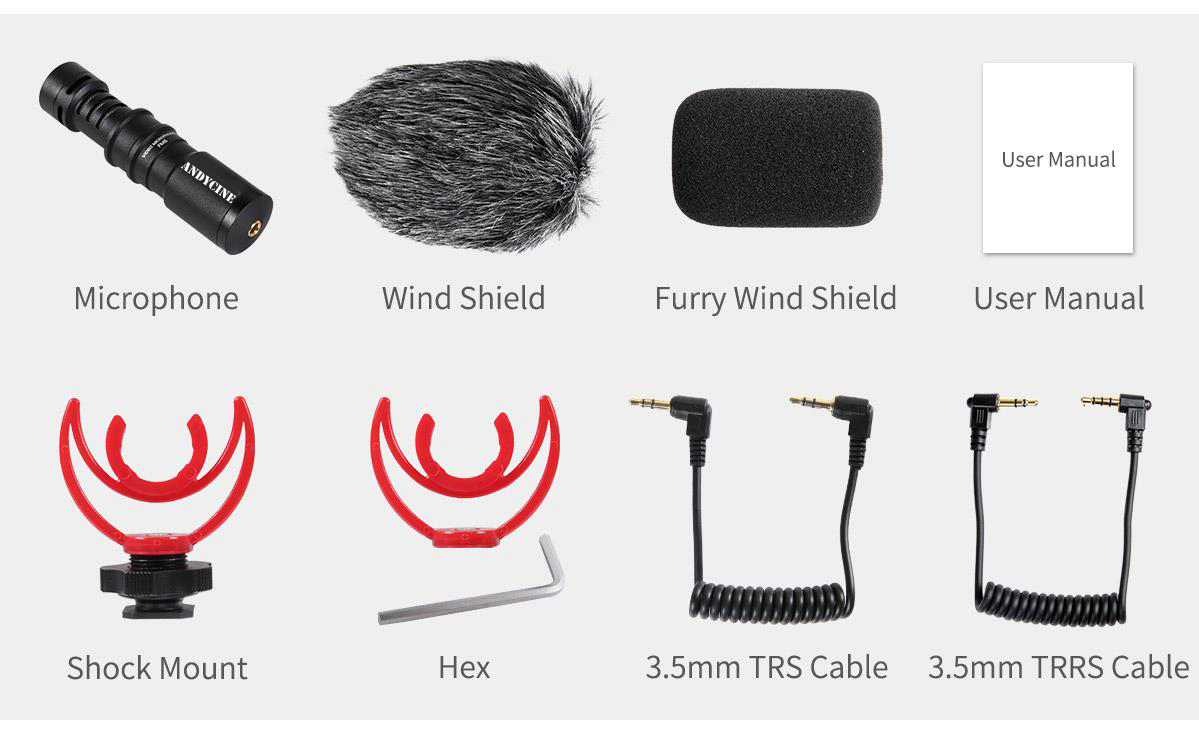 1. We accept PayPal only.




2. All major credit cards are accepted through secure payment processor PayPal.


3. Payment must be received within 7 business days of auction closing.


4. We will ship to your address. Please make sure your address is correct before you pay.
1.

Fast Free Shipping ,We have

Stock in US, Europe, China

2. We Ship to worldwide.If you can't place the order in your country, please contact us to help you buy it sucessfully.

3. Items will be shipped within 2 business day on payment received.
1. All our products are new. 1 Years Warranty. Buy with confidence!

2. If you are not satisfied when you receive your item, please return it within 30 days for a replacement or money back. Please contact me before you return it.

3. Shipping & handling charges are non-refundable. Buyer is responsible for all return shipping cost.Prepaid return labels are only provided to customers that have received an incorrect or damaged item.

4. Item must be returned in condition received (Tags & Packaging).
1. All messages will be answered within 1 business day. If you do not receive our reply, please kindly re-sent your message and we will reply to you as soon as possible.

2. We do all that is within our powers to provide excellent customer service to all our buyers. If you think there is a reason to leave negative or neutral feedback, please contact us for assistance and we will do our best to resolve the problem as soon as possible.
ByMichael W. TurnerWednesday, 24 February 2021
I have a lot of mics for different purposes, but I was looking for something that was portable, that could get good sound and not require a battery. I came across the Andycine AC-M1 and this little microphone certainly does the trick. I really like the small size and the quality of the audio. It's great for a vlogger or someone that has a camera mounted to a tripod that is a couple of feet away. Also it comes with a dead cat(wind muffler or whatever you like to call it), a spare shock mount, a stereo cable for your camera and a second cable that will work with your phone. You can get a sample of the audio quality in video.
ByChristian SesentonWednesday, 23 December 2020
So many great features about this mic! It comes with all the necessary accessories to get you up and going. The deluxe windshield held up amazingly during strong winds in our beach shoot. I love the versatility of this mic, I can plug It into a camera or a phone if you're wanting to get some scratch audio with the supplied cables. For the price you can not beat the quality! It held up pretty nicely next to its competition (rode). I highly suggest this mic to anyone that needs versatility on a mic and has a run a gun setup, no batteries needed = you'll always have good audio on your footage. Definitely a must have, best value for the money!
ByAbhiTuesday, 20 October 2020
I've used this ANDYCINE microphone for about a week now to film vlogs and short films, and I think it's a good product for the price. Before buying this mic, I used the one built in to my Canon M50 which was often quiet and picked up noise from all directions. Having a directional mic has definitely been a game changer and the audio quality is certainly better. I've used my friends RODE mic before and I think the RODE series definitely is superior in audio quality but comes at a much steeper price. This Andycine mic is a good entry level camera/phone mic that won't put a hole in your wallet and will get you what you need.
ByJenniferThursday, 07 May 2020
This is an amazing mic! I hesitate to even add some sort of disclaimer, like it's amazing *for the price*, because quite honestly, it's AMAZING, period. The price just makes how great it is even more of a bonus. I was really quite impressed with this, particularly upon opening the box and seeing the accessories that came with the mic. It's a pretty complete package for a portable microphone, and will allow you to do on the go recordings with your phone or camera. I'm very, very pleased with this mic. So far I have tried it out for sound for video, podcasting, and a few songs, and the sound quality is nice and clear. I am not picking up on much distortion at all, although the room I was using it in is the room I record in at home, so I have it set up for that. The noise cancellation is on par with my other (MUCH more expensive) microphone, which makes this a really impressive mic!
ByKiley AndersonThursday, 07 May 2020
I love this little mic. I use it with GoPros and my iPhone. Great sound for the price. It's lightweight and for the price it can't be beat.

USD

Your cart is currently empty.