ANDYCINE Smartphone Video Vlogging Kit 4 in 1 Combo with RGB LED Light + Shotgun Microphone + Tripod + Phone Clip for Movie Making, Live Streaming, Phone Video Recording
stars, based on
( 1 )
reviews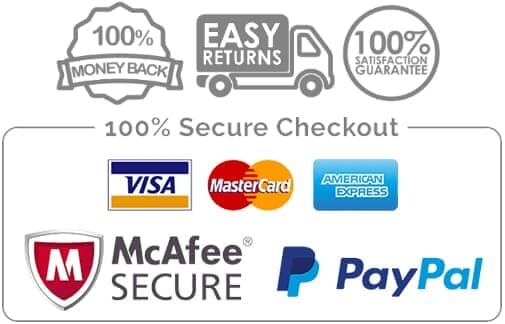 ANDYCINE Smartphone Video Vlogging Kit 4 in 1 Combo with RGB LED Light + Shotgun Microphone + Tripod + Phone Clip for Movie Making, Live Streaming, Phone Video Recording
Brand: Andycine Item Number: VK-01
【Widely used】 Designed for social media influencers, photographers, journalists, and travelers, this vlogger kit supports tons of phone usage scenes such as daily vlog, online course teaching, YouTube, TikTok and Instagram, video shooting , podcasts and live streaming. , conferences, etc.
【Mini RGB LED Light】 The R2 Micro RGB LED light is a compact in-camera rechargeable light. brightness range 0-100%, color temperature 2500-9000K, cool and warm white light can be adjusted as you like. The light has 73 lamp beads. (White 22 pieces + Yellow 23 pieces + RGB 28 pieces). The battery capacity of the RGB video lighting is 2000 mAh. Run time over 2 hours at highest brightness.
【Compact In-Camera Microphone】 ANDYCINE M1 is a compact microphone designed to enhance the audio quality of your videos. It comes with heavy duty cardioid pointer, the pickup area is concentrated in the front of the microphone, which can clearly and accurately record the target sound, effectively reducing background noise.
【Phone Clip】 The PC1 Phone Clip is a high-quality solution for mounting a smartphone on a tripod. It features a cold shoe mount for easy connection of the microphone and other accessories. Two 1/4 "threaded attachment points allow easy mounting to tripods and grips in a variety of orientations. 1/4 "-20 screw to hold cameras and camera accessories. It is suitable for mounting 56mm to 86mm wide phones.
【Mini head and tripod】 The B1 mini head allows the head to move freely in all directions. Additionally, a slot allows the head to tilt 90 ° in one direction. Connects seamlessly to the T2 tripod for handheld or tabletop use. The T2 Tripod is a rugged, two-position ball-head tripod for mounting cameras, microphones, and other accessories.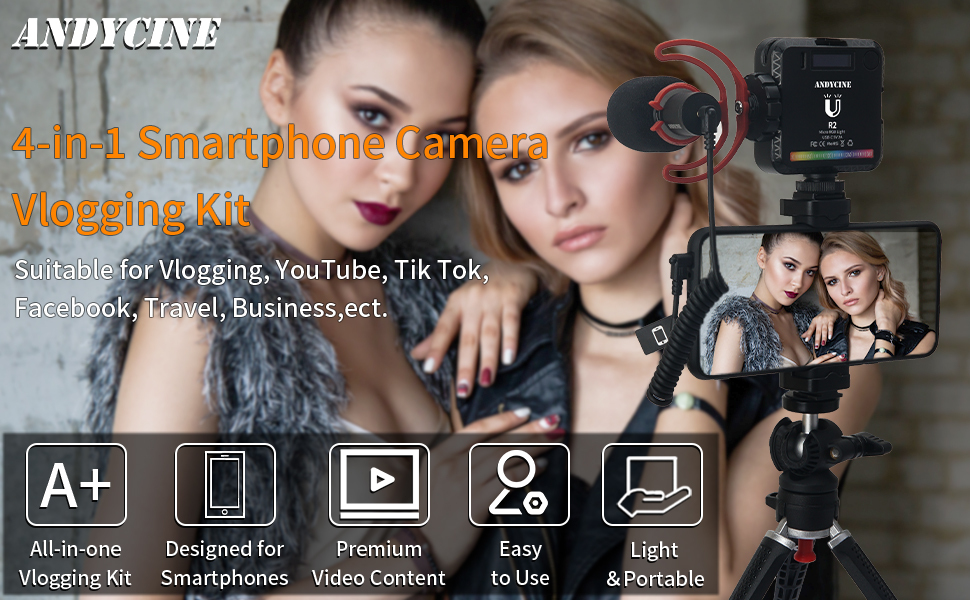 Andisin smartphone video kit
Andycine smartphone Video Recorder kit, equipped with microphone, video lamp, tripod, ball head tripod, mobile phone clip, five in one, very suitable for video recorders, tiktok, Youtube video, mobile phone streaming, personal phone video, live music and outdoor activities. R2 mini RGB LED is a small rechargeable camera lamp. Brightness range 0 - 100%, color temperature 2500 - 9000k, cold and warm white light can be adjusted as needed. Andy cine M1 is a compact microphone designed to enhance the video sound quality. Also, using a mini tripod to shoot the video is absolutely more convenient and stable.


20 effect modes and CCT adjustment
Camera lights with 20 common lighting scenes can be used for color photography. The pitch can be adjusted between 0 degrees and 360 degrees. This LED panel has a built-in LCD screen that reads accurately to make your work more efficient.
R2 Micro RGB LED Light
The R2 Micro RGB LED Light is a compact, in-camera rechargeable light. It is ideal for vlogging, news gathering, mobile movie making, and documentary production. The R2 has adjustable brightness settings from 0 to 100% and 20 FX mode.
Choose the different shooting direction you want
With a 360 ° ball head and height adjustable tripod, you can shoot any way you like, which is convenient for vlogging or other videos.


















ByedgardbTuesday, 11 April 2023
Andycine VK-1 is the best budget universal vlogging kit for new YouTubers. It includes a sturdy mini gimbal tripod to keep the phone steady while shooting, an M1 microphone to improve audio quality, an R2 Micro RGB LED light to enhance lighting, and a PC1 phone holder to attach the microphone. This suite provides new vloggers with all the necessary tools to create professional-looking content on a budget. Thanks to @edgardb for showing us how to use the different components of the kit to create a high quality vlog and giving us tips on how to get the best results. Whether you're just starting out or looking to upgrade your vlogging setup, this kit is perfect for anyone looking to create high-quality content without breaking the bank. Link:https://youtu.be/qVDonhyR7oE

USD

Your cart is currently empty.