Brand: Comica Item Number: D1/D2/UC1/UC2
This item will be released on April 9, 2020. With four types for your choose
D1:TX+RX
D2:TX+TX+RX
UC1:TX+UCRX
UC2:TX+TX+UCRX
Transmitter (TX)
Wireless Band:2400 ~ 2483.5MHz Transmitting Power:+10dBm
Receiving Sensitivity:-86dBm Antenna:PCB Antenna
Polar Pattern:Omnidirectional Frequency Response:80Hz ~ 20kHz Sound Delay:<20ms External Mic Input Interface:3.5mm TRS
Battery:Built-in Li-ion Battery 300mAh 3.7V
Battery Life: 5 Hours
Net Weight:29g
Dimension:39 x 22 x 55mm
Operating Temperature: 0℃ ~ 50℃

Receiver (RX)
Wireless Band:2400 ~ 2483.5MHz Transmitting Power:+10dBm
Receiving Sensitivity:-86dBm Antenna:PCB Antenna
Audio Output Amplitude:+0dB ~ +12dB Sound Delay:<20ms
Audio Output Interface:3.5mm TRS Monitor Interface:3.5mm TRS/TRRS
Battery:Built-in Li-ion Battery 300mAh 3.7V Battery Life:5 Hours
Net Weight:29g Dimension:39 x 22 x 55mm
Operating Temperature:0℃ ~ 50℃
UC Receiver (UCRX)
Wireless Band:2400 ~ 2483.5MHz Transmitting Power:+10dBm
Receiving Sensitivity:-86dBm
Antenna:PCB Antenna
Audio Output Amplitude:+0dB ~ +12dB
Sound Delay:<20ms
Date Interface:USB-C
Monitor Interface:3.5mm TRS/TRRS
Net Weight:29g
Dimension:39 x 22 x 55mm
Operating Temperature:0℃ ~ 50℃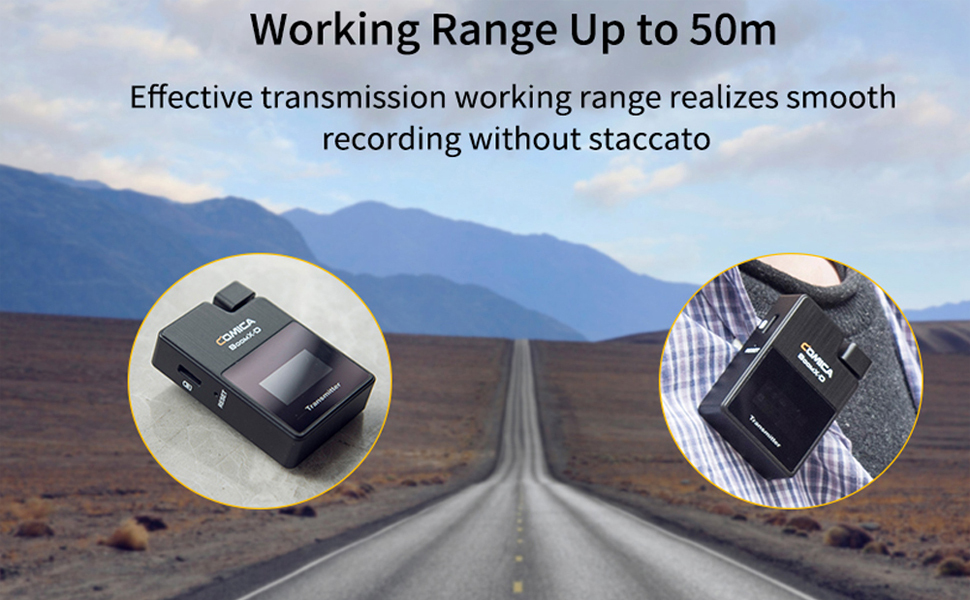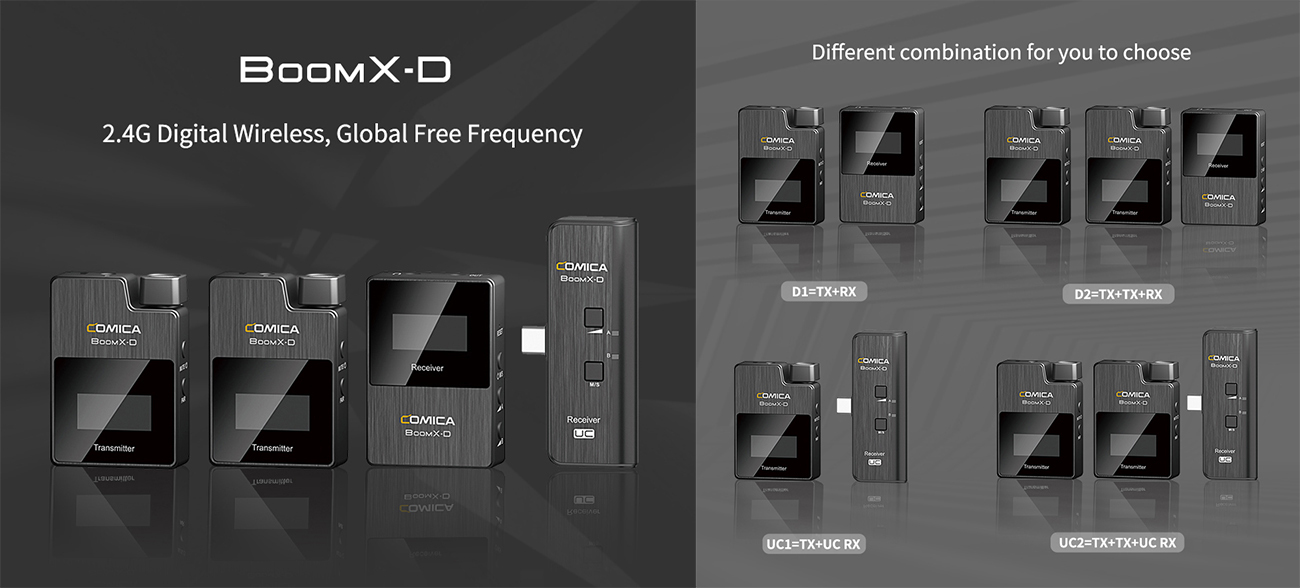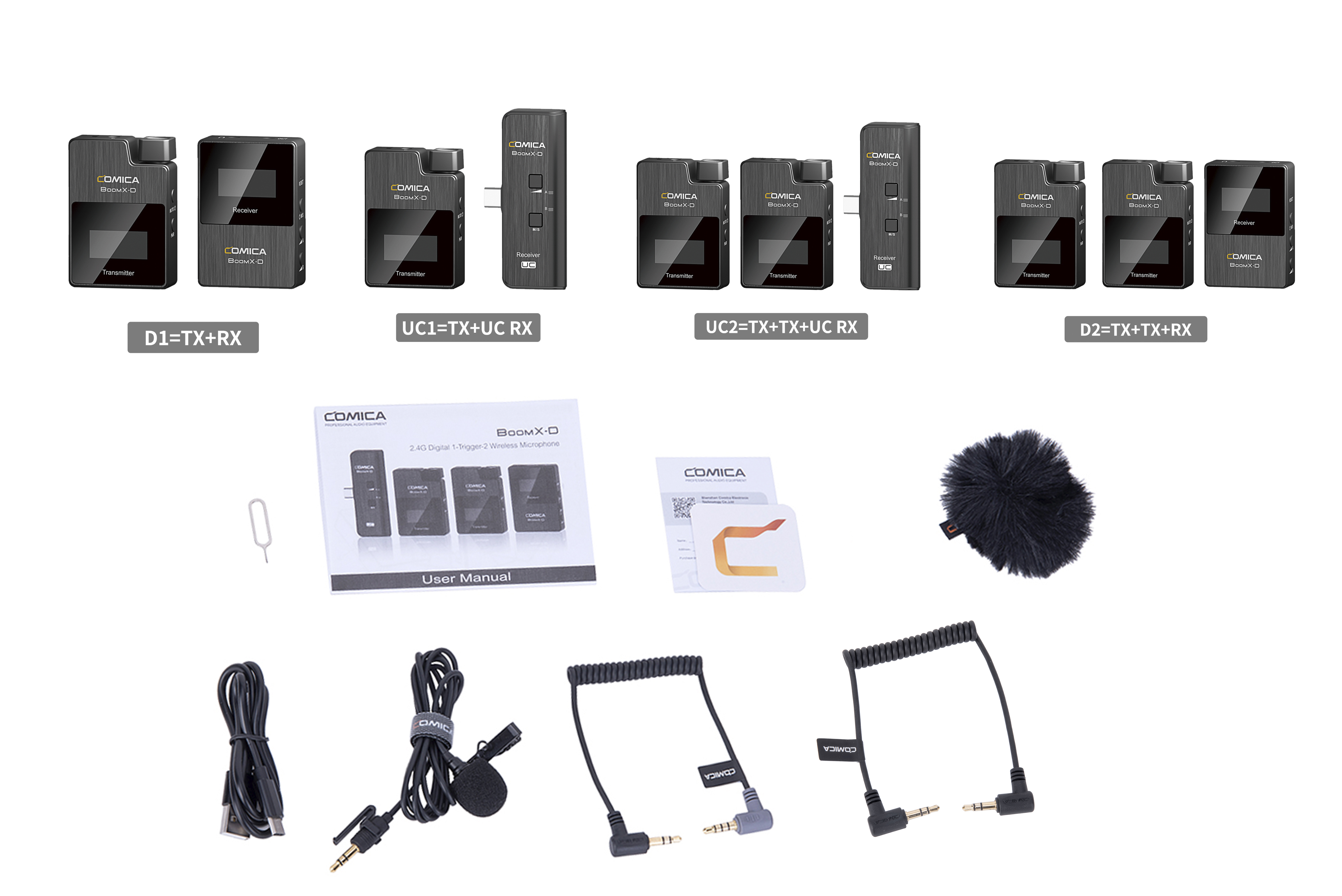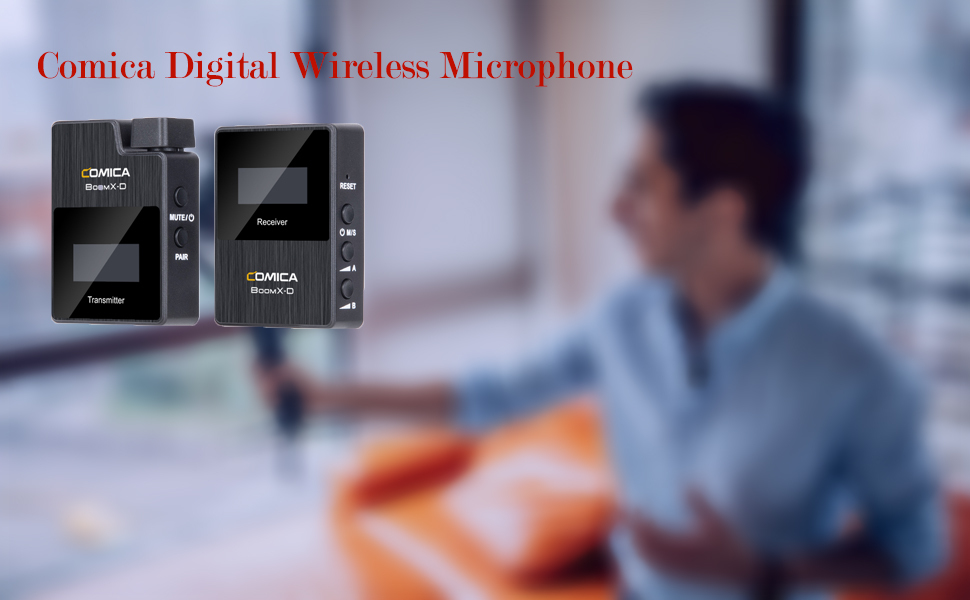 【High-quality professional wireless microphone】Broadcasting Quality Audio, 48KHz 16 Bit. Working Range Up to 50m. Low Latency < 20ms
【Dual Transmitters Triggered by One Receiver】Several devices working together, stable signal and more efficient. 2.4G Digital Wireless, Global Free Frequency. RF Technology, Auto Freq. Adjustment, Stable Transmission Suitable frequency.
【Mini and portable microphone】Weighs only 29 grams. Designed with Multi-functional Belt Clip and Compact, ensure clear recording and keep the microphone work properly
【Multiple input & output modes】Internal and External MIC Two Input Modes. Make recording clear and natural, sound fluent and smooth. Mono/Stereo Switchable Output Modes. You can according to the environment to choose output mode
【 Real-time Audio Monitor】Visual Power, Audio Dynamic Monitor and Other Display Functions Clear and convenient, easy to monitor and ensure the work status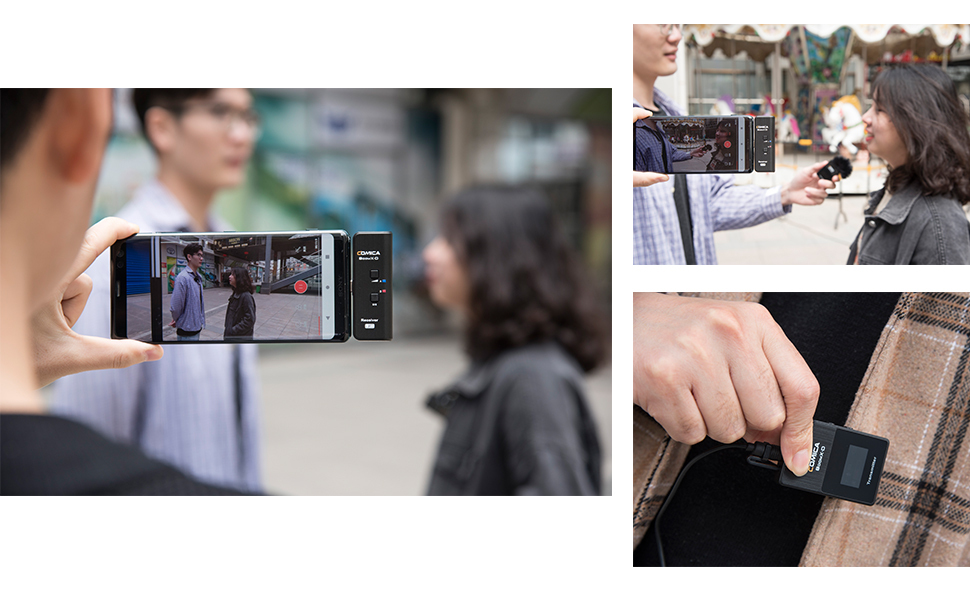 2.4G Digital Wireless, Global Free Frequency
Mini and portable, high-quality professional wireless microphone
One/Dual Transmitters Triggered by One Receiver
One/Several devices working, stable signal and more efficient
Visual Power, Audio Dynamic Monitor and Other DisplayFunctions
Clear and convenient, easy to monitor and ensure the work status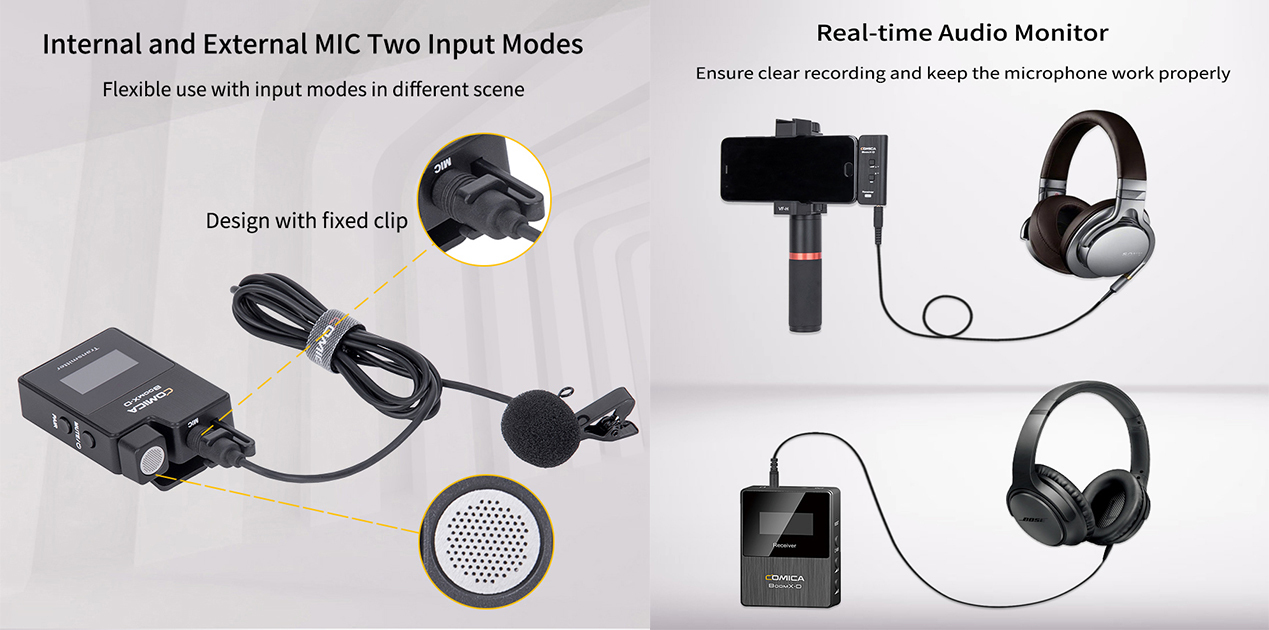 Mono/Stereo Switchable Output Modes
You can according to the environment to choose output mode
Real-time Audio Monitor
Ensure clear recording and keep the microphone work properly
Broadcasting Quality Audio, 48KHz 16 Bit
Professional technology creates perfect audio quality
Why Choose us
1. Support real-time monitoring
2. Mono/stereo multi-output selection
3. With dynamic audio monitoring and other TFT screen display functions
4.5 hours battery life
5. Six different combinations can be choosed
6. With two mics input methods
Download user manual:BoomX user manual
1. We accept PayPal only.
2. All major credit cards are accepted through secure payment processor PayPal.

3. Payment must be received within 7 business days of auction closing.

4. We will ship to your address. Please make sure your address is correct before you pay.
1.

Fast Free Shipping ,We have
Stock in US, Europe, China
2. We Ship to worldwide.If you can't place the order in your country, please contact us to help you buy it sucessfully.
3. Items will be shipped within 2 business day on payment received.
1. All our products are new. 1 Years Warranty. Buy with confidence!
2. If you are not satisfied when you receive your item, please return it within 30 days for a replacement or money back. Please contact me before you return it.
3. Shipping & handling charges are non-refundable. Buyer is responsible for all return shipping cost.Prepaid return labels are only provided to customers that have received an incorrect or damaged item.
4. Item must be returned in condition received (Tags & Packaging).
1. All messages will be answered within 1 business day. If you do not receive our reply, please kindly re-sent your message and we will reply to you as soon as possible.
2. We do all that is within our powers to provide excellent customer service to all our buyers. If you think there is a reason to leave negative or neutral feedback, please contact us for assistance and we will do our best to resolve the problem as soon as possible.
Transmitter (TX) Specification:

Wireless Band :2400 ~ 2483.5MHz,Transmitting Power:+10dBm,Receiving Sensitivity:-86dBm,Antenna:PCB Antenna,Polar Pattern:Omnidirectional,Frequency Response:80Hz ~ 20kHz,Sound Delay:<20ms,External Mic Input Interface:3.5mm TRS,Battery:Built-in Li-ion Battery 300mAh 3.7V,Battery Life:5 Hours,Net Weight:29g,Dimension:39 x 22 x 55mm,Operating Temperature:0℃ ~ 50℃
Receiver (RX) Specification:

Wireless Band :2400 ~ 2483.5MHz,Transmitting Power:+10dBm,Receiving Sensitivity:-86dBm,Antenna:PCB Antenna,Audio Output Amplitude:+0dB ~ +12dB,Frequency Response:80Hz ~ 20kHz,Sound Delay:<20ms,Audio Output Interface:3.5mm TRS,Battery:Built-in Li-ion Battery 300mAh 3.7V,Battery Life:5 Hours,Net Weight:29g,Dimension:39 x 22 x 55mm,Operating Temperature:0℃ ~ 50℃
UC Receiver (UC RX) Specification:

Wireless Band :2400 ~ 2483.5MHz,Transmitting Power:+10dBm,Receiving Sensitivity:-86dBm,Antenna:PCB Antenna,Audio Output Amplitude:+0dB ~ +12dB,Sound Delay:<20ms,Data Interface:USB-C,Monitoring Interface:3.5mm TRS/TRRS,Net Weight:19g,Dimension:33 x 13 x 70mm,Operating Temperature:0℃ ~ 50℃
ByJAZE LUXWednesday, 23 December 2020
1. Value for money - for this price point, it's a bit of a steal to get this amazing product with all the necessary attachments you need to use with different camera and mobile phone. It's a plug and play device!2. Long lasting battery capacity - have tried vlogging outside using this, twice, for like cumulative 2 hours of use each time and we didn't have any problem with the battery at all.3. Compact Size - the units itself can all fit on my palm. With all the attachments in a box, they can easily fit in my camera bag.AREAS OF CONCERN1. Echo - There's a bit of an echo when you use this product with a monitor when you want to listen to your own voice. Something that won't bother me too much as I don't have to speak a lot anyway when filming others. It's bearable.2. Hot Shoe - the clip the serves for the receiver can fit 'well enough' on the camera's horse shoe mount but extra caution must be put in place not to accidentally bump/hit the receiver and break the receiver clip, if not the camera's horse shoe mount.My overall impression for this product is that it's a fine and premium product that delivers. It's worth investing to this product whether you're a beginner, intermediate or even professional film maker or content creator.
ByMikeFriday, 25 September 2020
This is a very solid system for the price. There are many products that try to deliver what Rode has done with the wireless go, but this is the best alternative that I have tested. The value can't be beat and the feature set is robust. I didn't expect the Comica to be as good as it is. Most competing products are UHF and completely inferior. If you are looking for a portable, travel friendly, run and gun, expandable wireless mic / lav system that is affordable, this is it.
ByMadmetalFriday, 25 September 2020
This device is very nice all around for what it can do and for the price. The reason I got this device, was becaause I would not find a cable that would not be noise free for a distance of 15 feet, shielded and what not, they all had interference noise. There are a couple of things I would like for it to be better... the transmitter battery isnt as strong as the receiver... will go just over 2.5 hours only and will need to be recharged after. The attached Lav mic is great, but it is only meant if you are a woman, it would enhance it, as a guy, I found it to be too much on the high end. Other than that, when I attach my Shotgun mic it works perfect. you can also do stereo or mono channel due to having two transmitters
ByLonnie StricklandFriday, 04 September 2020
This super compact Microphone set is simply amazing. The Comica boom X-d2 is the best bang for your buck. This microphones have some really amazing features like 2.4ghz digital wireless ,global Free frequency,dual transmitter trigger by one receiver ,visual power, and audio dynamic monitoring. This also has a mono real time audio monitoring broadcast. The audio quality has a low latency up to 20 ms. The maximum range is 50 meters.Does it come with every cable you can think of TRS-TRRS. This unit charges by USB-C and you can also simply split the track stereo and mono with a simple click of a button. You can also expand this unit with accessories like a UCRX smart phone adapter.They have a total of six different kits you can purchase just in kits. So just imagine what you can do with that. The sky is the limit with this microphone. The only downside to this microphone is there is no SD card to backup the audio.
ByDukeFriday, 04 September 2020
I've been using wireless microphone for a while but it was always a pair of one mic (transmitter) and one receiver. I couldn't use for any interview shoot because I only can record the audio from 1 person.Now I found this set of wireless Microphones which is exactly what I needed. Beside all of the features like small, lightweight, high quality audio, etc... this set doesn't comes with one but two transmitters so I can setup the interview shoot with two people and recording the audio separately and freely.I can use either the internal mic on the Transmitter or plug the Lav mic to the transmitter and use as a traditional lav mic and I can also monitor everything right on the Receiver. To me, the sound quality from the internal mic on the transmitter is quite very good, no need to use the Lav mic. Btw, I can plug the wind muffs on the internal mics to reduce the wind noises.And on top of that, this set can be used with phone, different camera brands by using different cablesSo I've been using this set for my videos in the last couple weeks and I'm very impressive.Highly recommended.
ByAndycine CustomerFriday, 28 August 2020
This Comica BoomX-D2 is an ultra-compact digital wireless microphone system which is unique in its clip'n'go versatility, incredibly compact form-factor, and unmatched price accessibility compared to other model such as the Rode Go. It's the perfect wireless mic solution for content creators in all disciplines: filmmakers, on-camera presenters, newsgatherers, vloggers and more GOOD:- Operates as a clip-on microphone or belt-pack transmitter for a lavalier/headset microphone- Built-in omni-directional condenser microphone delivers broadcast-quality sound- Delivers crystal clear audio under any conditions, even in locations with dense Wi-Fi and Bluetooth activity like shopping malls, conventions, hotels etc- Tested at 70m range (line-of-sight) without an y loss of signal, but optimized for shorter-range operation in congested radio-frequency environments- TX and RX have built-in rechargeable batteries, charged via USB-C port- Rated up to 5 hours on a full charge, but yet never run out of battery during testing- Auto battery-saver mode- Super-lightweight and ultra-compact: TX is 30g and RX only 29g- The transmitter and receiver pair right away, as soon as they are both power up- Signal not interrupted by turning your back to the camera/receiver- LCD screen are bright and easy to see, even under sun lightNOT SO GOOD:- The auto battery-saver mode dim the LCD screen automatically after a few second, which can be annoying when trying to read the screen info, and there are no setting to disable this feature. However, the screen will turn back to full brightness when any button is pressed again.
ByEdwardFriday, 28 August 2020
Don't let the size deceive you this microphone it's real like really powerful and clear very very clear no distortion no statics..you should try I recommend for school lecture meeting even a party In many ways you can use that I use it for my PlayStation 4 and also for broadcasting plus the material equality is not cheap it's very elegant design
ByHieu LuuFriday, 14 August 2020
Wow! As a videographer, I'm highly impressed by the value of these wireless mics. Compared to other wireless mics these are more affordable and they come with 2 transmitters instead of one. That is way more handy then you might think. My favorite thing is how small the transmitters are. Having client where these instead of a bulky transmitter is way more convenient. The sound quality is a great and I've had no problems. Receiver is a clip on which can be mounted to the hotshoe or literally anywhere it can clip on. Another nice feature! All in all this comes with everything you need to get going for a fast portable set up.
ByGlen ReedFriday, 14 August 2020
I am very happy with the quality and convenience of this wireless system. I was surprised by how easy this was to use and how good the audio quality is. I did some testing and found that the range is a bit more than advertised as long as the receiver is within the line of site of the transmitter. It comes with all the cables needed for just about every camera. I also found that the battery life was very good and could easily get me through most video shoots.
ByMarlonFriday, 14 August 2020
The Comica Boom X-D is in my opinion the best value for money. I have the D1 version which includes one receiver and one transmitter, but they have other options that include two transmitters and one receiver too. This mic system is really easy to use. Their compact size makes them really easy to handle and hide. This system comes ready to go straight out of the box, just turn it on and you're ready to record. Uses the 2.4 GHz system so no scanning frequencies! Unlike my Rode Wireless Go system, I am able to use two transmitters with one receiver, so if I need an additional transmitter I have the option to buy that later on down the road. You also have the ability to monitor your audio in real time as this has a headphone jack. Another feature the Rode system does not have. The battery life holds up well and the actual audio quality from this system is solid. I like that it includes the attenuated cables for specific cameras, dead cat for the built in mic and also includes a lav mic. Great value!
ByVitoWednesday, 13 May 2020
Frankly not bad for the price does the job well. Good sound.
ByMaxThursday, 07 May 2020
I bought this plus the D1 set to make a complete and versatile remote mic system. It records stereo (adding the transmitter from the D1) so perfect for interviews recorded on my smartphone. Can be switched from Stereo to Mono at the touch of a button. The OLED screens give you all the data you need. The D1 comes with every cable you might need to hook it up to whatever. Each set comes with a lav mic. highly recommed

USD

Your cart is currently empty.