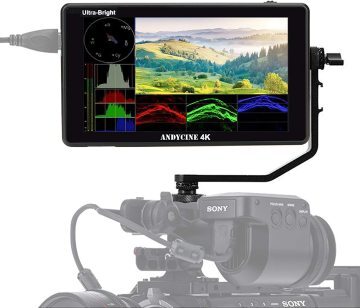 ANDYCINE C6 6" 2600cd/m² HDR/3D LUT 4K HDMI Touchscreen HDMI Input/Output Monitor for DSLR and Mirrorless Camera with Waveform VectorScope
$279.99
I upgraded from the Andycine A6 to the C6, there are many noticeable differences that makes the C6 a very good monitor. It came in with everything included in the black box as you see in the video. For its price, it's very nice that they included all the things you'd need to use the monitor (cables, monitors, mount...). Everything seems to be of decent quality (the monitor mount that's included in the package is noticeably better than the one that came with the A6). The smaller monitor mount in the video is a separate product that doesn't come with the monitor, but I would recommend getting that instead of using the one that came with the monitor.The package includes:-The monitor itself-HDMI to mini HDMI cable-HDMI to micro HDMI cable-A monitor mount that uses hot shoe on the bottom and 1/4 screw on the right side-Charging plate and cable-Microfiber cloth-Sony NP-F batteryPros:-Bright screen: this monitor is 2600 nits, in other words, bright enough to use comfortably under sunlight. The A6 just wasn't bright enough for me, but the C6 is so much brighter!-Touch features: this allows you to quickly change brightness/volume as well as have access to many of the built in features (vector scope, grid, focus assist...) I shoot on BMPCC4K, so many of these features are already in-camera, but for cameras that don't have these features, it's nice to have them on the monitor.-Port selection: there are HDMI in and out, DC in and out, SD card slot for LUT display, and a 3.5mm headphone jack for audio monitoring.Cons:-The placement of the DC in and out ports are pretty close to the 1/4 screw hole on the bottom, so if you're using a monitor mount that is a little wide, these two ports might be hard to access.-The HDMI cables are the standard thick ones, I would recommend getting some thinner HDMI cables on Amazon for a better experience. The ones that come with the package are still nice enough to use though!Overall I'm pretty happy with this purchase. I have all the features I want in the camera, and so far not many problems at all! Would definitely recommend others.
Spent quite a few days looking into field monitors across all price ranges. I made up some cardboard mockups to see what screen size would be most useful and the 6 inch Andycine and Feelworld (think they're the same) looked to be ideal.The monitor is lightweight but I'm hoping that Andycine or someone else will soon make a cage for the monitor as I wouldn't like to be too heavy handed with it. Saying that the touch screen works well and the monitor is bright and easy to use. The functionality is excellent and I supplement the camera output with the Waveforms and focus assist.The size is perfect for travelling and it balances well on the camera or magic arm.After using this monitor I will now be looking at a 7 inch for indoor use and also as a monitor for my gigging keyboard rig as I can hide the laptop away.To summarise - great product at a reasonable price.
I was really impressed with the brightness on this small on camera monitor. It's a great size, especially for smaller camera set ups. It comes with a bunch of accessories including a padded protective case, HDMI cables and power supply. It is a little disappointing that this does not include any batteries but there is a UK mains power supply in the box.If you are more likely to be using this outside of a studio environment then I would suggest picking up a couple of batteries. Luckily these are the same type of batteries that power most photography lights so I had plenty of spare ones about.A little tip, if you dial back the brightness on the monitor it saves a huge amount of battery. It's so bright that this is not a problem and even in direct sunlight you are unlikely to have to use it at full brightness. The ability to add LUTs via SD card and features such as false colours, focus peaking and more makes this a great monitor all round and the size is perfect for travel.
I have since ordered a second similar product from the same manufacturer, just one size larger, and I'm keeping both. For the price point, it is an incredibly high quality, bright display with versatile mounting options.
My trusty old super-cheap on-camera monitor has served me well for some years, but it was time for an upgrade. After some thought and research, I decided upon the Andycine C6… and I'm glad I did. It's a great piece of kit and one which I am certain will help me hugely with my filmmaking.The monitor comes very nicely packaged, along with a a mini HDMI cable, a micro HDMI cable, a seriously useful tilting arm and even a smart carrier pouch.One of the first things that attracted me to the C6 was the six-inch full HD touchscreen. (You can use physical buttons is you prefer.) It's a really nice size and is bright, vivid and responsive. Definitely easier to see than most camera screens. Boot-up time was just a handful of seconds, which is more than acceptable. The brightness is automatically adjusted by a sensor according to the ambient light. Love it! Then there's a plethora of imaging tools, most of which I am going to have get used to utilising: histogram, waveform, vectorscope, false colour, peaking focus, audio levels… all available for adjustment with a tap and a swipe. I can have as many or as few displayed as I choose. I devoted a bit of time to studying the functionality of the screen; time well-spent as it's now a doddle to use. I have also enjoyed being able to load LUTs via an SD card (maximum of 50) – this is a fabulous addition which I made full use of during my first test 'run'.I haven't weighed the unit, but it didn't strike me as being overly heavy and it was certainly comfortable to handle and attach.I am very happy with the quality of the display image, especially as it can be altered via hue, saturation, sharpness and contrast. Colours are vivid and visibility is spot-on.Build quality is fine: the monitor body is made of plastic but, with careful handling, should withstand the rigours of filming. Everything seems well-made and I must confess to being rather taken by the overall design.Something else I noticed was that the operation is surprisingly quiet. I was concerned that the fan would be a distraction, but not so. Not a problem. Plus it promises to prevent over-heating, which is a valuable touch.In conclusion: this is a fabulous monitor. Not the cheapest by any means, but equally not the most expensive. After an initial test, I am in no doubt that this is a sound investment and one that I am going to make full use of for years to come. How did I manage without it?
This monitor is amazing! It is bright enough to see everything even if you are on the beach.This item is very affordable and a complete. I would highly recommend this monitor.
Hi. This looks great. My only concern is the fan noise. In an interior room interview for example, would the fan be noticeable?
This monitor is AWESOME! I got this for its brightness since I tend to shoot more outside in the sun for run and gun purposes and it's perfect! The features are great and I love how the menu is super simple to access via touchscreen. I also love the 6' size vs the 5'
Hi. This looks great. My only concern is the fan noise. In an interior room interview for example, would the fan be noticeable?
This monitor is higher quality than I expected at this price point. The size is perfect for me and I really like how bright the screen is, it's even visible outdoors during the day which is priority number one for me. It has plenty of inputs which means plenty of options for a variety of setups. Overall this is just a really dependable, easy to use, simple, affordable monitor and I like it a lot.

USD

Your cart is currently empty.