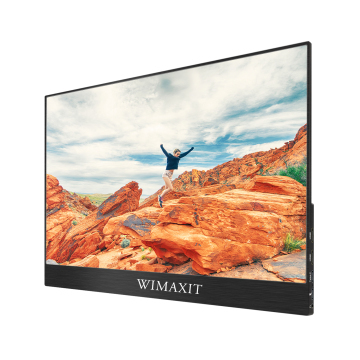 WIMAXIT M1560CT2 Touchscreen Monitor, Ulta-slim 16:9 Type-C/USB Monitor for Laptop, Android Phone, Game Consoles
$209.99
This monitor is great to take away with you and although it's so large it's still fairly thin and comes complete with a high-quality folio style case which protects it a bit like a large tablet. I originally wanted a large field monitor for video work but soon realised a product like this would allow me to do a lot.I can run my Nvidia Shield Console through it, PS4, my phone, anything I need that has an HDMI out! This means its far for versatile than just a camera field monitor. It's nice and bright when used outside so there is no need to for a sunshade/barn-doors. It is oPowered by USB and you can run it off a power bank when out in the field.It has very high specs, a 10 point touchscreen IPS LED panel. Which is 13.3 inches 1920 x 1080 and 16:9 aspect ratio. There is a wide range of connections (see the video) so you can plug almost anything into it!
I was looking for an additional screen or monitor for my home office but then I found this which is far more useful and better than a monitor. Although the size is 15" but still I feel its far better than a 27" or 30" monitor. There are multiple use I can use this monitor as. I have two latops and one of them is touch screen and the other one is not. I have a HDMI spliter and I have connected this monitor on both the laptops using this the splitter. This screen is touch screen and now I can use the touch screen on my non touch screen laptop too.The screen comes with all the cables you will need i.e. HDMI to mini HDMI, USB to USB-C and USB-C to USB-C. Initially I connected my laptop using USB-C to USB-C but then I lost the only USB-C port on my laptop so I tried HDMI. This is something everyone needs to understand that in order to have the touchscreen working, you need to connect using either USB-C or HDMI with USB-C. So I tried with HDMI but touch screen didn't work. I reached out to the seller and the customer service. I became fan of the excellent customer service I was provided.
We got a few of Wimaxit's portable monitors in our office, so when I wanted to get one for myself, the decision was easy.This thing is relatively sleek looking and light. It does come with a cover that works as a stand as well. Overall the look matches the price tag.Out of box I was able to get the screen set up as a second monitor with no problem. No dead pixels, and pretty bright and clear. But for some reason I just couldn't get the touchscreen to work with my laptop, so I contacted the seller. They got back to me really fast and helped me troubleshooting until it worked. So apparently I need to connect the HDMI to HDMI first, then USB C to USB C. In my video I had the power plugged in, just in case, but it still worked after I unplugged the charging cord.This is a solid product and the company has great customer service.
Very convenient to use,love it

Your cart is currently empty.