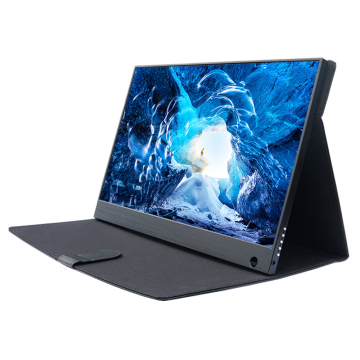 WIMAXIT M1560CT Portable Touch Monitor ,15.6 Inch Slim IPS 1920x1080 16:9 Display,Only One Type-C Cable Delivers Video Power and Touch
$209.00
Like many potential buyers, I was uncertain of this purchase. This was mostly due to the fact that this brand was unknown to me and at the time of purchase, there weren't many reviews for it either. I am happy that I took the chance. Pros:-Great screen for many functions that is also matte-Light weight-Has a decent case that protects and doubles as its stand as well-Comes with USB C AC adapter / HDMI cable / USB C to USB C cable-Does not need to be powered with adapter when connecting to a laptop or mobile phone [which is great]-Headphone portCons:-There doesn't seem to a menu where you can adjust screen brightness and other typical monitor settings. If you depress the center button [built into the volume rocker] a menu comes up, but it is to simply toggle through the inputs.-The external speakers are super weak. I did notice that they seemed louder when hooked up to the Nintendo Switch, but far less louder when hooked up to my phone.Overall, I am very pleased with this purchase. I hope this review helps you decide. :-)
I was very impressed with this product. I had just recently bought a similar product from Asus that was non-touchscreen and more money. Like some other popular named brand monitors, the particular type c only connection option was too high tech even for my most recent expensive high tech gaming rig purchased just a few months ago. I had to take it back because it didn't work. Other big name brand monitors seemed to fall into the same category. Then I found this product. It was extremely compatible with both my desktop and laptop out of the box. The unit is lightweight, but surprisingly sturdy. The diplay may not neccessarily beat out all the other name brand competitors, but it is high definition and looks great with nothing really to complain about so far. The killer feature for me is the touchscreen! I don't think you can find anything else out there for the price, portability, compatability, and features like a touch screen. I use this for work and dont game on it. Based on my use I think it is geared more towards productivity so I dont know if this is neccessarily the best option for games. If you need something portable for productivity and touch compatabilty I would recommend this.
Build quality seems very good, nice brushed aluminium style chassis and overall form factor is very slender (so it fits in a backpack quite nicely. It takes input from a variety of sources really well and the full sized tpye-c is super useful Screen brightness could probably be a bit better but otherwise the crispness and latency look nice - you could watch a movie or do work on this thing with no difficulties and having a matte screen means that reflections are almost non existant.Would have been nice for Samsung Dex or a Nintendo to be able to power the thing independently rather than needing a seperate battery pack - when it's hooked up it works great mind and there aren't many screens on the market with a built in battery so i suspect that's a general technology limitation.In short, if you're looking for a good secondary screen for working OR something to hook up to a switch or equiv and as long as you don't mind needing another power source then this works fine.Also, whilst i'm thinking, touch functionality also works really well on both Dex and Windows 10.

Your cart is currently empty.