Andycine A6 Plus V2 5.5inch Touchscreen 4K Camera Field Monitor with waveform/vector scope/3D LUT/USB Type-C power
Andycine A6 Plus V2
A6 PLUS V2
1. Interface add DC 5V input: Type-C, you can flexible use mobile phone powerbank to power monitor. 2. The advance feature add: Waveform, Vector scope, Image Flip(The Horizontal,Vertical and Hor&Ver of the image around flip), Nine Grid, False Color (type2).
3.【Touch function】 in this new model you can use your fingers to operate the monitor ,not just watch it, touch the screen as you want, more Interaction 4. 【Screen performance good as usual] 5.5" IPS 16.7M (8 bit) 440 PPI Full HD screen with Adjustable LED Backlight and SD Card Slot for 3D LUT uploading and Firmware upgrades 5.【 360° Tilt Arm Better Monitoring Angel】wide viewing angle 85°/85°(L/R) 85°/85°(U/D) you can see more in every different angle. 6. 【Quick 4K HDMI In/ Output 】 Support 4K format 4K UHD 3840×2160p (30/29.97/25/24/23.98Hz), DCI 4K 4096×2160p (24Hz 7. 【Power Supply】 Real Time Power Charge for Camera.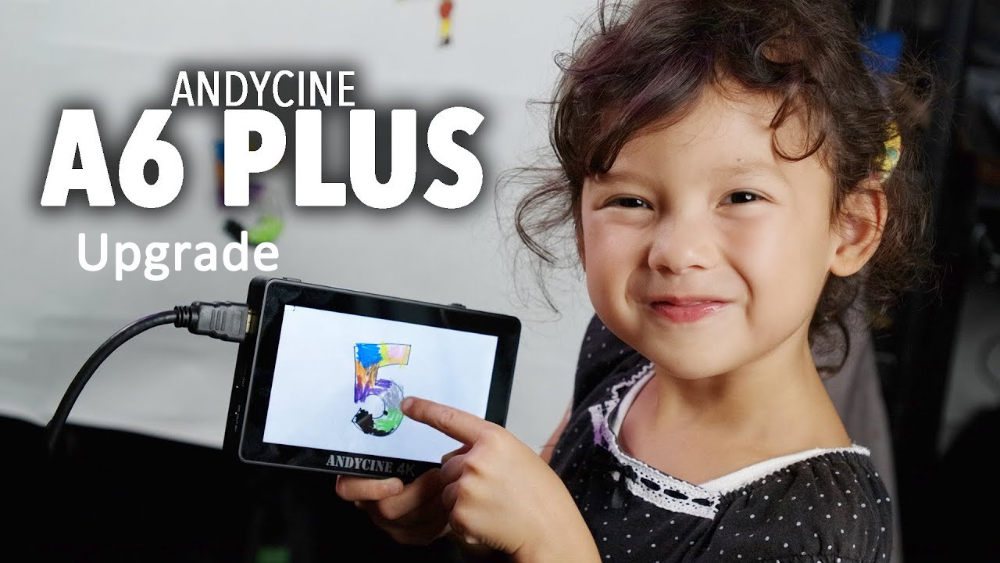 When battery powering the monitor, DC 8V to power camera with a separately available DC coupler, Battery Plate for Sony L-series and Canon LP-E6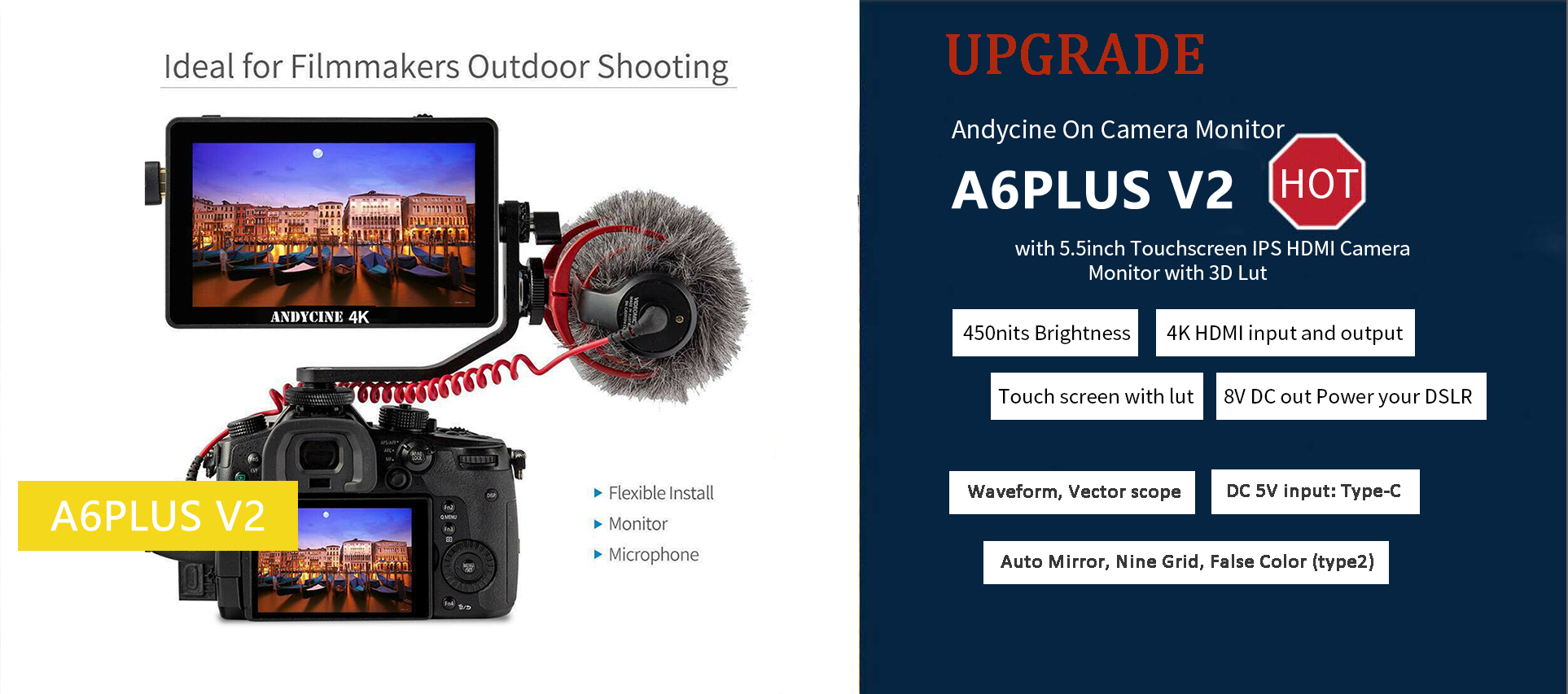 What is the difference between A6PLUS v1 and V2 ?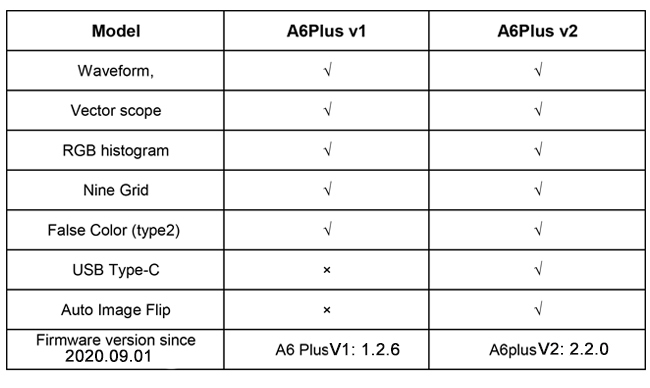 Support Touch Screen and Button Control Menu
●You can also get a quick glance at your menu settings and features with an easy tap on
the screen.
●It also supports physical buttons control. Tap/Rotate the wheel button for quick selection and function settings.
●Tap the power switch to turn off the touch function, designed to prevent misuse.
3D LUT Color Calibration and Real-time Preview
A6 PLUS provides S-log2/3, V-log, Log-C etc, to convert log mode to REC709 for all major
cameras.
The LUT loading function makes the color calibration work of the previous shooting easier and more
intuitive, optimizes the workflow and improves work efficiency. User creative 3D LUT cube or calibration
3D LUT cube can be uploaded to F6 PLUS by SD card.
4K HDMI Input & Loop Output
The A6 PLUS has 4K HDMI in and loop-out, allowing it to not only display live signals, but also send them out
to other monitors simultaneously. It's the ability to display live picture on multiple displays at once while still maintaining
the original video quality. Plus, you can monitor audio using the 3.5mm stereo headphone jack.
Flexible Dual-purpose Battery Plate
Compatibility with Sony F970 and Canon LP-E6 of lithium batteries for one battery plate. Providing
long-time working condition for cameraman in shooting applications.
Noted:
1. USB Type-C Power input: You can use USB power adapter or Powerbank to power V2 monitor.
2. Auto Image Flip(Horizontal&Vertical)


Pls check your firmware version in the menu of the monitor before contact us cs@andycine.com to get the lastest firmware.

Convenient Mounting - Tilt Arm
Every A6 PLUS monitor will ship with a cold shoe mounted Tilt Arm. Shooters will have a secure
way to position their monitor while maintaining a low profile.
• Allows the A6 PLUS monitor to rotate 360 degrees for viewing convenience
• Secure and lightweight mounting via shoe mount or 1/4"-20 thread
• Includes a shoe mount of its own for accessories like a microphone, LED light, or wireless receiver, etc.
Andycine A6 PLUS features standard 1/4" mount points

(top, bottom, right) for attaching it to cameras
and rigs. Not only you can install it on a monitor through tilt arm, but also you can mount it on a handheld
stabilizer or securely attach it to the top of your camera as the ultimate HD viewfinder! If you install it on the
bottom of the device, you can also combine the image flip function to maintain the correct orientation of the
screen!
Portable Sunshade, Easy Install
The A6 PLUS monitor is equipped with a sunshade, which allows the photographer to focus more on the video
and avoid the interference of strong light, providing a better visual experience. The installation process is simple
and fast, which is very suitable for outdoor shooting.
What is New On the ANDYCINE A6 PLUS?
Monitoring Tools with Quick Accessibility
The A6 PLUS keeps the original great: it's small, lightweight and has great image quality.
In addition, it now features the touch screen and has the ability to import 3D LUTs via the
SD card. The A6 PLUS is the perfect monitor for those who need an easy-to-use lightweight
on-camera monitor such as gimbal operators, or shooters that are always on the go.
Its touchscreen conveniently allows you to zoom your image with a pinch gesture and tap to
access the menu settings. There are also a variety of onscreen tools to help you set up your shots,
including histogram, peaking, embedded audio, exposure, false color, zoom, guides, pixel-to-pixel,
anamorphic mode, image freeze and more.
Waveform / Vector scope
Waveform: This essential feature assists with the calibration of professional video cameras. It shows the overall brightness of the image assisting the video professional in correcting exposure. The waveform feature also checks the evenness of the lighting when lighting a chromakey or background.
Vectorscope: Vector scope shows how saturated the image is and where the pixels in the image land on the color spectrum. It can also be displayed in various sizes & positions, that allows users to monitor color gamut range in real time.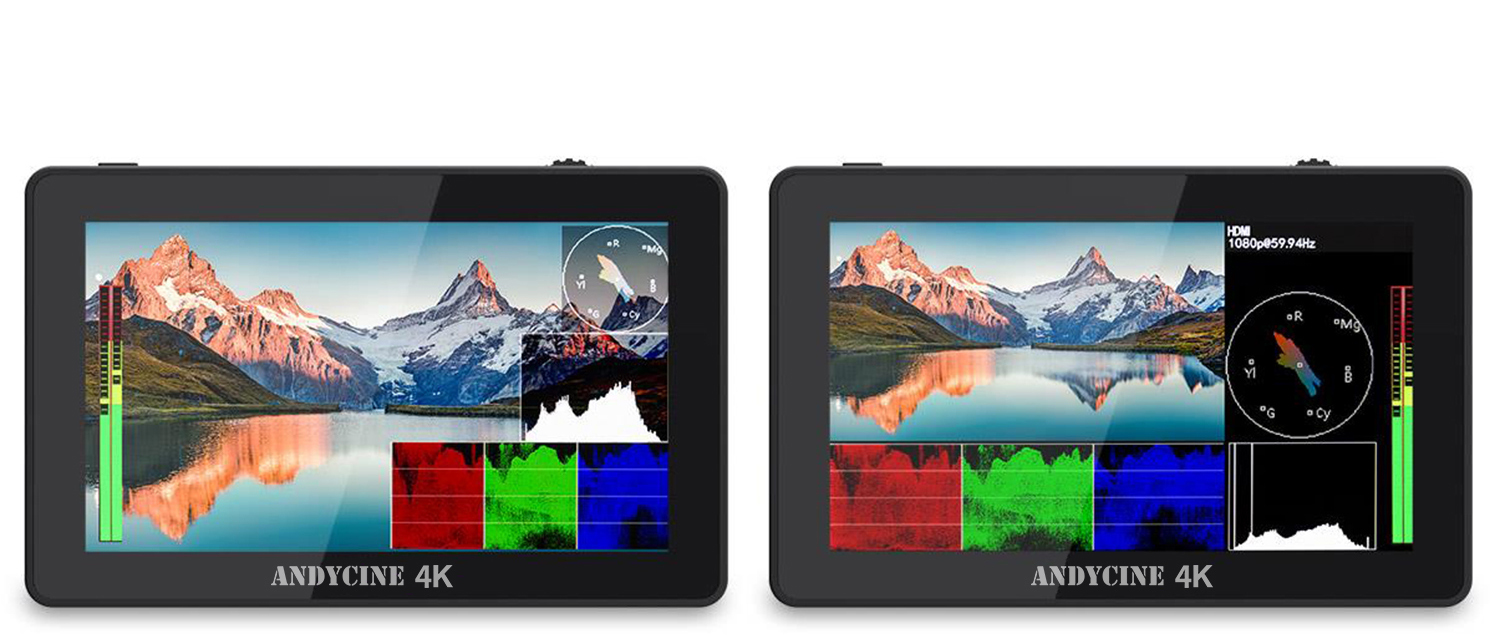 Auto Mirror
After auto-mirror is turned on, rotate the monitor vertically, and the picture will be adjusted upside down automatically.

User LUT Cube Import
A6 PLUS provides S-log2/3, V-log, Log-C etc, to convert log mode to REC709 for all major cameras. The LUT loading function makes the color calibration work of the previous shooting easier and more intuitive, optimizes the workflow and improves work efficiency. User creative 3D LUT cube or calibration 3D LUT cube can be uploaded to A6 PLUS by SD card.
With 4K HDMI inputs you can connect it to any consumer camera, broadcast camera or even DSLR cameras. You also get loop thru outputs, so you can display live video or expand display on external screens or projectors with embedded audio. You can also monitor audio using the 3.5mm stereo headphone jack or the built in front panel speaker. For power, there's a 12V DC input and two NP-F battery slots.
Flexible Dual-purpose Battery Plate
Compatibility with Sony F970 and Canon LP-E6 of lithium batteries for one battery plate. Providing
long-time working condition for cameraman in shooting applications.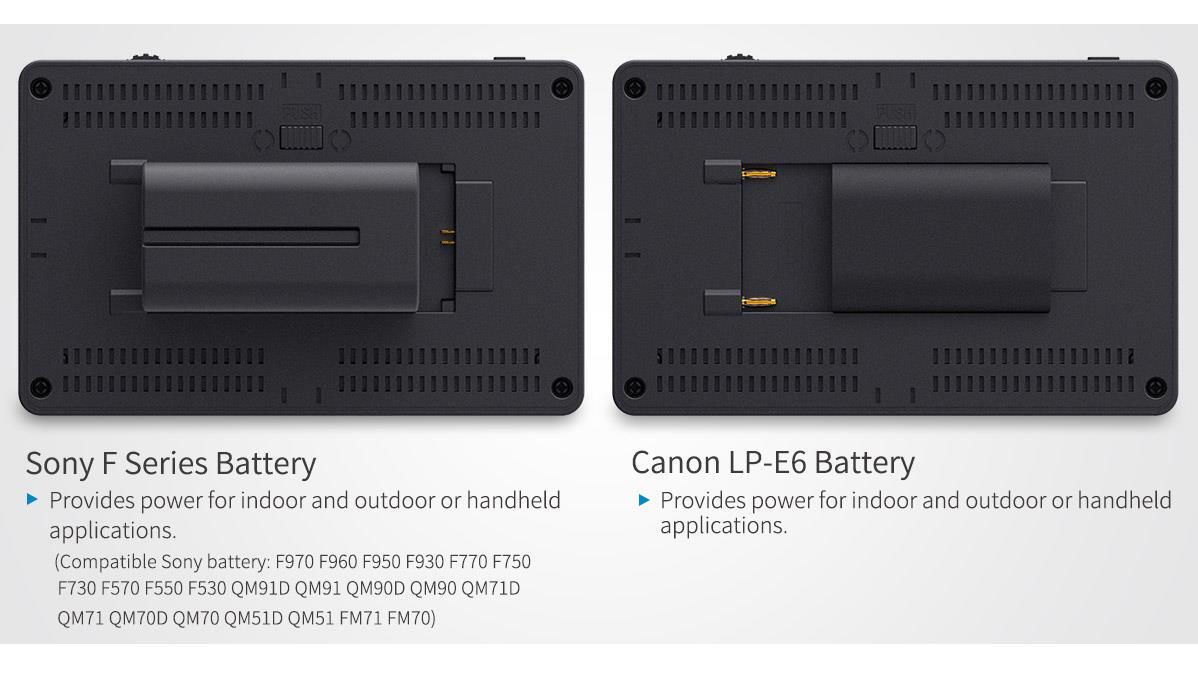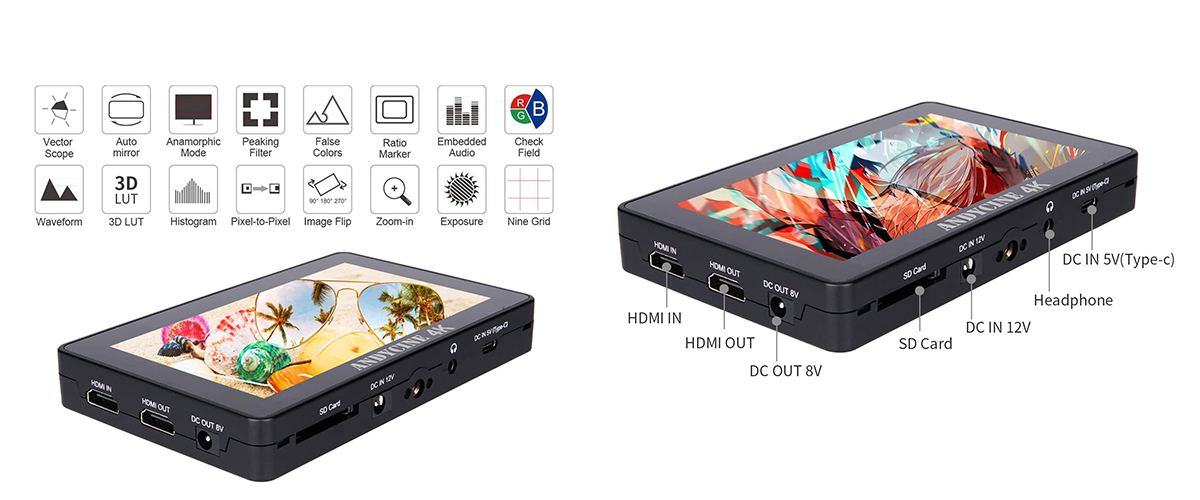 4k HDMI Input and Output
4KHDMI Input and 4K HDMI Loop Out

Max Accept HDMI Signal : 3840×2160p 30Hz
Power Monitor Power your DSLR Camera
There is a 8V DC output port which can power your camera via a DC Coupler(Optional) Designed for long time fielding and time lapse fielding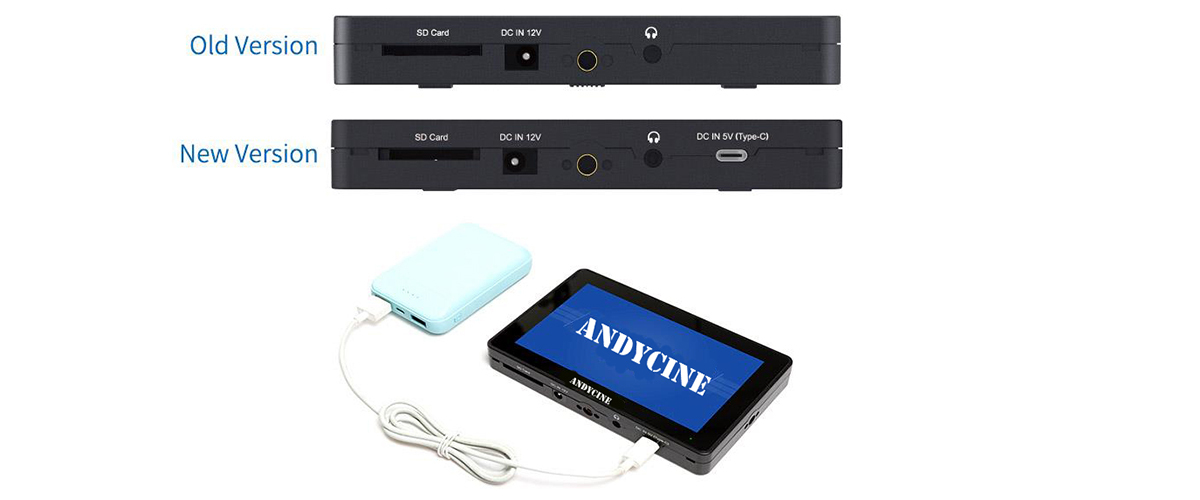 Triple Power Source
The Monitor Accepts the NP-F Sereies Batteries and LP-E6 Batteries

The monitor accepts the 12V 1A DC Power adapter(Not include)
AndyCine A6 Plus Features
Screen size 5.5" IPS
Display Colors 16.7M (8 bit)
Resolution FullHD 1920x1080 pixels
Pixel Density 440 PPI
Color Gamut 90% NTSC, Rec.709 Color Celibration
Aspect Ratio 16:9
Brightness 450/m2
Contrast 1000:1
Backlight LED
Adjustable Backlight YES
Viewing Angle 85°/85°(L/R) 85°/85°(U/D)
Input/Out Signal HDMI v1.4
SD Card Slot SD Card for 3D LUT uploading and Firmware upgrades
Audio 3.5mm Stereo Headphone
HDMI Input&Out Support Format 480i/576i/480p/576p
1080i (60/59.94/50)
720p (60/59.94/50/30/29/25/24/23.98)
1080p (60/59.94/50/30/29.97/25/24/24sF/23.98/23.98sF)
4K UHD 3840×2160p (30/29.97/25/24/23.98Hz), DCI 4K 4096×2160p (24Hz)
Power Out DC 8V to power camera with a separately available DC coupler
Power Consumption ≤ 10W
Input Voltage DC7 ~24V
Battery Plate Sony L-series and Canon LP-E6
Power Connector DC (5.5mm outer, 2.1mm inner)
Operating Temperature -20℃ ~ 55℃
Storage Temperature -30℃ ~ 65℃
Mounting Points (3) ¼-20 thread points (top, bottom, & right side), Tilt Arm is included
Unit Size 148Lx93Hx20D (mm)
Unit Weight 235g
What's in the box:

Download user manual:A6 PLUS USER MANUAL
(Please note: Do not change the name of the upgrade program! This is only for A6 PLUS V1 (without Type-C) user update, if your monitor is Type-C version, don't use this to update your monitor)
(Please note: Do not change the name of the upgrade program! This is only for A6 PLUS V2 (with Type-C) user update, if your monitor without type-c version, don't use this to update your monitor)
PLS CONTACT US IF YOU DON'T KNOW YOUR A6plus version:info@andycine.com
1. We accept PayPal only.
2. All major credit cards are accepted through secure payment processor PayPal.

3. Payment must be received within 7 business days of auction closing.

4. We will ship to your address. Please make sure your address is correct before you pay.
1.

Fast Free Shipping ,We have
Stock in US, Europe, China ,Shipping time 3-7 days
2. We Ship to worldwide.If you can't place the order in your country, please contact us to help you buy it sucessfully.
3. Items will be shipped within 2 business day on payment received.
1. All our products are new. 1 Years Warranty. Buy with confidence!
2. If you are not satisfied when you receive your item, please return it within 30 days for a replacement or money back. Please contact me before you return it.
3. Shipping & handling charges are non-refundable. Buyer is responsible for all return shipping cost.Prepaid return labels are only provided to customers that have received an incorrect or damaged item.
4. Item must be returned in condition received (Tags & Packaging).
1. All messages will be answered within 1 business day. If you do not receive our reply, please kindly re-sent your message and we will reply to you as soon as possible.
2. We do all that is within our powers to provide excellent customer service to all our buyers. If you think there is a reason to leave negative or neutral feedback, please contact us for assistance and we will do our best to resolve the problem as soon as possible.
ByAnthony MelhadoWednesday, 24 February 2021
This monitor is really useful for the price, the only thing im little worried is about the battery capacity, also when i opened it it had a little scratch on it, i don't think it is affecting the performance of the monitor but i definitely was a little complained about that. Maybe the amps capacity is too low in, and you could offer a slightly bigger one in capacity. Other than that the monitor has really nice features. And i recommend it. (Luts importation, Focus Assistant, Touch Screen, Waveform) I think It is the best budget monitor you can get.
ByCristianFriday, 15 January 2021
It's a midrange touch screen, 4k compatible monitor, you can reduce the volume on one side by sliding up and down and on the other side reduce the brightness. Double click the screen to see the menu options and go from here. Most importantly it can charge my BMPCC 4k with its DC input hooked on to a dummy battery. The build looks what you're paying for. It comes with its own case which is nice for storing the monitor and a HDTV to micro wire along with a battery. My last monitor I had to purchase a battery and a micro wire so this is already up there.
ByJoe RiggsFriday, 15 January 2021
HIGHLY RECOMMEND!!!! I love this. This is the Plus V2, which I didn't realize when I bought. Which I'm very happy about. This is an incredible Monitor, with a few added features over the previous version that are perfection. From the full touchscreen, better interface, the USB-C charging, Focus Peaking, on and on and on and on. I use it everyday and adore it. What else can I say.
ByArami Camacho Jr.Wednesday, 23 December 2020
ByMichaelFriday, 04 September 2020
Rather than writing a long dissertation, I can simply confirm the claims by the manufacturer in terms of quality, performance, usability, and especially value for the price. Go to mfr website and read about features and specs, or view the Youtube videos. Many touch-screen controls and adjustments. Easy to use.The particular benefit for me was one of the new features on the Gen-2 model I bought, having a USB type-C port which can be used to power the monitor from a slimline 5-volt USB battery pack widely. Works like a charm without needing a large, heavy Sony NP-Fxxx series battery to mount on rear of monitor.
I cannot get my andycine A6 plus to work properly with a canon camera. I use canon eos 80D and eos m50. It does not work on either one. the camera monitor goes off and does not come back on. when I do a self video, the monitor shows me moving in the opposite direction that I actually move. I cannot use the adjustments because the camera monitor is off. Does anyone else use a canon camera with this monitor?
ByTonyFriday, 04 September 2020
This Monitor has to be one of my BEST buys.True color, Very light, And great Price.The touch screen is such a big Bonus.Please buy this monitor if u are looking for something to seethe actual footage you are about to film.Night and day compared to any stock LCD screen.i had the Heavy 7inch monitor with a shoe mount, it was super annoyingheavy and bulky.Please upgrade to this 5.5 touch screen dream monitor.Thanks for the early shipping!
ByCFFriday, 28 August 2020
Right at the beginning I noticed that the Andycine A6 Plus is really well built and feels valuable.I particularly like the fact that it is possible to operate the monitor with touch and 3D LUTs directlyto display.These features can otherwise only be found in significantly more expensive monitors.In addition to an HDMI IN and OUT connection, the A6 Plus has a slot for an SD card and other common but also useful functions such as focus peaking, false colors, etc.In addition, both the Sony NP batteries and the Canon batteries have recently been compatible with the Andycine A6 Plus.With the matching DC OUT cable it is even possible to save the batteries of the camera and to charge them with the help of the monitor batteries.With the mounting arm, the monitor can be brought into many different positions, depending on whether you are vlogging or behind the camera.You can tell that the monitor is a bit dark when used outside, depending on the light conditions, but that should be largely remedied with the sun protection.The menu is very clear and simple and therefore offers the possibility of using the monitor functions easily and simply by touch.The monitor is a very good option for both professional and amateur videographers, as it is far above the standard in terms of price management and is very solid in a small but fine housing.
ByAlberto P.Friday, 28 August 2020
This monitor looks really professional! The size is perfect for all type of job and the image is really defined and very bright!The monitor has a lot of setting and has the possibility to import and set LUTS only with a SD card. For the menu, we may use the upper button/wheel or the touchscreen.Inside the package we find all the stuff that the producer say on the description! So good job!
ByJayWednesday, 19 August 2020
BySimoneWednesday, 19 August 2020
I recently purchased the A6 Plus Camera Monitor for a couple of reasons. 1. I wanted a monitor to more clearly evaluate focus and exposure. and 2. I wanted something that would give me better real time evaluation of my composition and framing of video shoots. I think the A6 Plus has helped me achieve that overall. It has some nice features of focus peaking, as well as false color. It also has good 1920x1080 resolution, supports 4K input that gives you good overall brightness at 150cd/m at 440ppi. the included sunshade is fine and works as expected and you will need it if out in bright sunlight. Also comes with a nice case to keep everything neatly stored in your bags, etc.Overall, for the price of this unit, I do believe it is a good value and has accomplished what I expected. I think it has assisted in getting better focus, better exposure, and I know my overall framing and composition have improved with just better visibility of the larger screen. I do overall recommend it for a budget camera monitor option.
ByAlanFriday, 14 August 2020
What I like:1. The screen resolution and viewing angles are really good, I have no problem nailing MF on a 35mm f1.4 lens!2. Lots of assist features built into the monitor that help with the exposure and focusing.
histogram
Focus assist
audio metering
zebra
monochrome
false color [I wish there was the IRE numbers as well]
safety marker
centre marker
scan mode
video aspect
anamorphic modes
flip modes
zoom
freeze
pixel to pixel
Lots3. Audio monitoring has no lag! On the previous model I couldn't use the monitor jack input since it had a lag with the live. Not anymore4. 3D LUT support,[.cube] oh, this is so helpful!!! The monitor already has some LUT's built in for slogs and vlogs and clogs, but you can add your own via the sd card slot. Soo helpful and easy to use.
ByLuis Gomes PhotographerFriday, 14 August 2020
I have to recommend this touch monitor because the quality is very good, additionally that the quick shortcuts are very easy to use, even the ease of adjusting the brightness and volume, this has helped me a lot in recent days, during a live music project where I had to check the audio of the videos and it is something I can't do with my canon 6d mark II.I really like the ease of selecting the function of which part of the image is in focus, the histogram, zone 16: 9, etc. In addition, this monitor comes a nice bag that can basically have everything that you need for example 2 batteries. Recommended especially with colours and pixels!
ByAbdul Al-HawaniFriday, 14 August 2020
I am very surprised about this incredible monitor! The build quality and image quality is 10/10. I do recommend this portable monitor to everyone who want a monitor with ton of features.
ByEmericWednesday, 15 July 2020
I love it! it's very intuitive and I really can't work with products that are not. I started using it to shoot online classes and my Youtube videos. When I film myself in front of the computer I have no way to see the liveview on my camera. I used to work with a big TV monitor but it's not as easy to use as a small monitor mounted on top of the camera. I can also mount my lav mic receiver on the bracket that comes with it! The interface is basic but easy to use. And there is a lot more features I haven't even tried yet! I also love the fact I can use Canon batteries to power it, since I have tons of them already!
ByDavideWednesday, 15 July 2020
I wanted a monitor with a touch screen that was easy to use and that was affordable. That's my main criteria for almost any product, and I have to say that this monitor certainly delivers. I was not expecting it to be as easy as it is. The main thing that I like is the touch screen and how responsive it is. I can increase or decrease the brightness simply by swiping up or down, I can access the menus simply by doubly tapping the screen, and as an added bonus I can magnify the screen the same way I would do on a smartphone. That makes getting your focus easy. Additionally all the main tools for video are in this thing - zebras, false colors, focus peaking, histogram, and of course a headphone jack. And you can also increase and decrease your headphone volume with a simple swipe too,this thing is pretty amazing.
ByDonMonday, 29 June 2020
Took a gamble on purchasing this product. It turned out to be a handy gadget even for still photography. The larger screen enhances composition before shooting as well as reviewing after shot. Highly recommend it for photography studio works.
BySin-dMonday, 29 June 2020
This really is a top of the line monitor. If you are debating between brands and models then I want you to know I strongly recommend this one. Works great with my a6500. I was having some issues at first but ANDYCINE's customer support got back to me within a couple of hours and was able to help me figure everything out.
ByZackThursday, 14 May 2020
This is just what we needed for our church live stream. The camera man is getting a little older and has trouble looking at the small on camera monitor.We are going to attach this lower on the tripod for him. It was very important to have an hdmi out feature so we could send the video to the streaming computer and this does! It has several ways you can mount and charge it . The picture is very sharp! Build quality seems solid. All in all I am very satisfied with this product!
ByCesar FelizWednesday, 13 May 2020
This monitor it's essential In your arsenal!Specially if you are a blogger or a film creator it's a must have item. And this monitor has all the bells and whistles you need. It can even charge your camera.The screen is cristal clear at full HD. It can support 4K In and out up to 30 FPS!And the best thing is the software interphase. The touch screen and the ease of use.
ByTomTuesday, 12 May 2020
I was so close to getting a Small HD but I am so much more impressed with this that I ever thought. It is a fantastic size, weight, and is sharp. The menu system is very intuitive and the favorites bar at the bottom is a game changer. I didn't think I would get around to using the LUT preview feature either, but it is awesome.

USD

Your cart is currently empty.